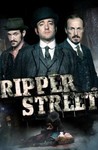 Starring:

Lucy Cohu

,

Matthew MacFadyen

,

David Threlfall

Summary:

In 1889, six months after Jack the Ripper struck the East End of London, the police of the Whitechapel 'H Division' try to restore law and order to the streets.

Genre(s):

Drama
Creator:

Richard Warlow

Season 1 premiere date:

Dec 30, 2012

Episode Length:

60
Please enter your birth date to watch this video:
You are not allowed to view this material at this time.
Ripper Street was clever enough not to hang its hat on the over-examined killings of the five Ripper victims, and clever fans of police procedurals will relish spending eight hours with cops who have to invent the crime-solving tools at their disposal.

It is well-written and certainly well-acted, with plot and psychological twists as numerous and tantalizing as the streets on which they occur.

It all works. Although Ripper Street does move at the slow pace characteristic of most British dramas, every scene and every line has meaning.

An entertainingly sinister dip in the cesspool of 19th century criminality. [21 Jan 2013]

While "Copper" took some time to get into a groove, Ripper Street is riveting from the first cry of murder.

Ripper Street is a decent but not especially remarkable thriller about crime solving in Whitechapel immediately following Jack's reign of terror.
An intriguing premise and a rich period setting that is not fawned over in place of a real and compelling script. Mcfayden and the cast are

An intriguing premise and a rich period setting that is not fawned over in place of a real and compelling script. Mcfayden and the cast are well placed in this engrossing series.

…

Expand

CyberGhost I have to respectfully disagree. Everything about this show is fantastic, the characters are what makes the show! I do however

CyberGhost I have to respectfully disagree. Everything about this show is fantastic, the characters are what makes the show! I do however agree with not really knowing how accurate everything is but you truly care for the characters and you you can truly sense the plight of White Chapel. Love this show, I can't believe their are not going to do a season 3. Can lose some of the "reality show" crap and have really great drama like this and Copper (which they failed to renew).

…

Expand

Good news, RIPPER STREET fans: the show has been revived for at least a third season by Amazon Prime/UK -- it will stream online first in the

Good news, RIPPER STREET fans: the show has been revived for at least a third season by Amazon Prime/UK -- it will stream online first in the UK, then air later on the BBC in Britain and, eventually, BBC America. Thanks to all who signed the online petitions and kept the good word circulating -- more RIPPER STREET is on the way.

…

Expand

A clever twist on Police procedure shows, with an interesting mix of factual and literary influences. Good performances, well directed and

A clever twist on Police procedure shows, with an interesting mix of factual and literary influences. Good performances, well directed and writing that does not get dragged into overplaying the characters flaws, but makes them part of the story. It was a shame that the Beeb didn't think this worth keeping but thankfully it was taken up by Amazon and now the Beeb have bought it from them. Their are some little nuances in the production that outside of the UK may get missed, but the reverse is the same for shows airing their from other countries, this does not detract from the overall appeal of the show though. If you watch this thinking its about the Ripper you will be disappointed, but if you go into it knowing its just after those heinous crimes and is in the shock and aftermath left in London at that time, it works completely.

…

Expand

Well acted, well written period piece police drama. Better than average, but certainly not on a par with the likes of Sherlock. With Ripper

Well acted, well written period piece police drama. Better than average, but certainly not on a par with the likes of Sherlock. With Ripper Street, Luther, The Hour and Sherlock, BBC America is perhaps second only to AMC for putting out quality shows.

…

Collapse

Well the show is semi interesting entertainment. Good sides are the acceptable actors, the visuals and some mediocre excitement. But the bad

Well the show is semi interesting entertainment. Good sides are the acceptable actors, the visuals and some mediocre excitement. But the bad sides are, each episode has its own closed plot and is not really connected to the next episode like in other series, even worse, each episode runs after the same scheme, the main characters get some Mac Gyver like ideas or clues or hints and solve the case. Most of the time i found myself doing other stuff and let the series just run in the background since most of the time i didn't miss any important plot.
Its quiet enjoyable but not really great

…

Expand

A good show with interesting plot lines that keep you engaged and
entertained. Though it's called Ripper Street we don't actually see
JackA good show with interesting plot lines that keep you engaged and
entertained. Though it's called Ripper Street we don't actually see
Jack The Ripper but instead live in the overarching shadow of him,
which quite frankly was a much better story line that simply having him
run amuck, not only has that been done before but we all now how it
ends.

The series instead, depicts life in 19th Century Whitechapple, and does
it very well, through the 8 episode season we are shown the hopes,
fears, troubles, growths and grim realities of the time; everything
from the development of science (and opposition against it by some) to
the pestilence of Cholera. I'm not an expert of the age so I can't
really say how accurate these depictions actually were but from my
estimation they were quite true to the point.

So now we have an interesting show during an interesting period, what
we need now s interesting characters. Sadly we don't get them. The
characters here are as stereotypical as they can come, and so are their
personal story lines, which we see bits and pieces of throughout the
season. Had the creates taken some more time and come up with complex,
un-predictable characters he show might have evolved into a higher
dimension, but non-the-less the characters we have are good enough for
entertainment and makes the show fun to watch.

(Season 1 review)

…

Expand