Network:

TNT

Series Premiere Date:

Jul 12, 2010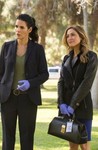 Season 2 premiere date:

Jul 11, 2011

Episode Length:

60
Please enter your birth date to watch this video:
You are not allowed to view this material at this time.
There's nothing earth-shattering about Rizzoli & Isles, but it's a pleasant, hour-long experience with interesting characters and above-average writing, especially in the exchanges between Jane and Maura.

The show continues to be soft, captivating fun. [18 Jul 2011, p.36]

You can call Rizzoli & Isles glib and sometimes even silly, but you have to admit it's also fun.
I Think this show has great fun written all over it. But One thing the writers can't really get onto... They would be the first Lesbian Crime

I Think this show has great fun written all over it. But One thing the writers can't really get onto... They would be the first Lesbian Crime Fighting Couple, Its written all over it and the Writers are sensing it but won't pull the trigger. This show can flesh out so much more potential if they can make it happen.

…

Expand

This show generally has better plots than the average procedural fodder, and the characters are good too. Another difference is that it shows

This show generally has better plots than the average procedural fodder, and the characters are good too. Another difference is that it shows you some of the characters out of work lives, which often makes a show boring but in this case it is well handled. Jane is one of those 'tough guy', job obsessed cops, which is a pretty big cliche but its not really an issue. Some people are saying Jane and Maura are a lot like a lesbian couple and they are very close friends but not that close.

…

Expand

A very cliche poorly written cop drama... The main character is a tomboy and the show shoves this in your face every chance they get. She

A very cliche poorly written cop drama... The main character is a tomboy and the show shoves this in your face every chance they get. She drinks beer, follows sports, and has a deep raspy voice. (I don't think she's good at acting) Her sister or whatever her relation to the main character is a stereotypical woman who prefers whine, dresses and handbags. (her acting is tolerable) If you think they're going to stray away from these stereotypes for a second don't hold your breath... I don't expect much from cop shows but if I can't stand the main characters I don't want to watch it

…

Expand

I do not like this show!! I love the books. Read them. Note the description of the characters-Rizzoli-somewhat short, frizzy hair, not

I do not like this show!! I love the books. Read them. Note the description of the characters-Rizzoli-somewhat short, frizzy hair, not beautiful-that is not Angie Harmon. Isles-short black hair, reserved, icy in character. Atmosphere of novels void of the horseplay seen in the series-and they are definitely not gay

…

Collapse