Network:

A&E

Series Premiere Date:

Dec 15, 2013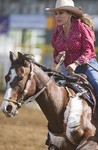 Summary:

The reality show follows the lives of five barrel racers: Darcy, a wealthy ex-Hollywood wife now living in Oregon; Megan, the rookie; Jessica, the junior barrel racer-turned pro; Marvel, the veteran pro rider, and Barb, another veteran and 2009 champion.

Genre(s):

Sports

,

Reality
Season 1 premiere date:

Dec 11, 2013
Please enter your birth date to watch this video:
You are not allowed to view this material at this time.
Rodeo Girls so far has stopped short of giving its stars and their story lines enough rope to hang themselves. Instead It manages to jingle jangle jingle its way toward an overall entertaining first hour of animal desires occasionally played out on horseback.

While hardly a horse of a different color, at least this Weinstein Co.-backed project is a relatively smooth ride for those who've been to the reality rodeo.

Combining the flashy trashy aesthetics of reality TV and the rodeo circuit, Rodeo Girls is at its best in the ring itself, as the camera speeds around the barrels with horse and rider.

Footage from the actual races is compelling. But race footage accounts for a minimal portion of the otherwise dragged-out show, edited for suspenseful teases, sexual tension, dramatic reaction shots and maximum personality clashes.

It starts by focusing on the riders' determination and training. That's good. Then it segues into the infighting and personality clashes among the competitors. That's not so good.

There's nothing much going on here besides flirting cowboys and lots of beer-drinking, the producers pile on the supposed "drama" with the requisite reality show staples: forced conflict augmented by quick-cut editing and doomsday music and staged scenes.... Hoof it away from here ASAP.

There is some actual racing in the hour, at the Parada Del Sol rodeo in Scottsdale, Ariz., where 120 compete but only 12 will draw checks. The time to beat is just under 18 seconds. But the results give way to another round of sniping and back-biting. The Weinstein Co., known for Oscar-bait films, serves as co-executive producers of this sorry spectacle.
really liked the show it's reality tv so ya there are gunna be parts that are just made for the sake of people watching, but as far as I am

really liked the show it's reality tv so ya there are gunna be parts that are just made for the sake of people watching, but as far as I am concerned these woman were famous and won there title way before the series started. SO people dissing them is unnessary. I really hope they air a second sweason because this is the only rodeo series with barrel racers there has ever been in my experience and I am 21 years old!! Plus your tell ing my that the Bachelor/bachlorette doesnt have drama scenes... Please!! I love this show and everyone I talk to does too so I am praying they air more seasons.

…

Expand

I hated the show It was my first time watching My hubby and I had to change it. We dont like watching teeny bobbie mothers who need to grow

I hated the show It was my first time watching My hubby and I had to change it. We dont like watching teeny bobbie mothers who need to grow up and the teens who need to act like real ladys and yes I am a 28 year old mother.

…

Expand

What a terrible show... Acting was way too obvious… Maybe they should wear another 5 lbs of makeup.. and get some more botox..

NoWhat a terrible show... Acting was way too obvious… Maybe they should wear another 5 lbs of makeup.. and get some more botox..

No horsemanship was shown… This show gives people who work with horses a bad name.. Yay.. let's buy the most expensive horse because we have no talent working with a horse.. yay lets yank and kick and yank just to win.. 'me and my horse aren't clicking, my horse isn't turning, look my horse got tangled in the rope and freaked out because I never desensitized him'… just stupid excuses for a lack of horsemanship.

Maybe a show that was a little less acting like a fool, less makeup, less fake, more REAL women, REAL decent horsemanship, and more horse sense then it would ACTUALLY be worth watching.

…

Collapse