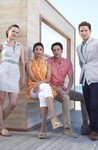 Summary:

After Dr. Hank Lawson loses his job at a New York City hospital, his brother helps him find a job as a on-call doctor in the Hamptons.

Genre(s):

Comedy

,

Drama
Show Type:

Between Seasons

Season 1 premiere date:

Jun 4, 2009

Episode Length:

60

Air Time:

09:00 PM
No one's ever going to say Royal Pains, with its pun title (although Scott is the only royalty around, most of the upper-class patients prove to be real pains), is a classic addition to the medical genre, but it certainly is zippy fun.

In summer, we feel less guilty about guilty pleasures. And Royal Pains is just what the doctor ordered for a shameless seasonal fling.

USA's Royal Pains is an amusing, enjoyable addition to basic cable.

Royal Pains is a pleasant excursion, with some great one-liners and a chance to tweak its well-worn formula.

Simply being quirky, however, only goes so far, so my preliminary diagnosis is that these Pains don't amount to much more than a second-degree "Burn."

Royal Pains is a crappy but watchable series about a "concierge doctor" in the Hamptons, radically unambitious but better at balancing the guilt with the pleasure.
Its not a house wanna its nothin like it house is based in a hospitable and pretty much no where else and all house does is treat patients

with a small back story to every episode royal pains is a good show compared to the crap they show these days it focuses on hank himself not only the patients its interesting,humorous, and enjoyable.

…

Expand

Love this show! The writing is fresh and funny and has the dramatic element as well.

Only thing worth watching on cable.

Royal Pains has a lot of potential, but may not get the justice is deserves. While there are some rough edges to carve out, namely the pace,

(it felt very squeezed, but that isn't uncommon for pilots) the story is easy to follow, but not at all boring. The writing could use a little work here and there, but ultimately is passable. What really sets Royal Pains apart from most other series on television is the acting. Mike Feuerstein gives a great depiction of an unfortunate but proud and intelligent doctor, while Paulo Costanzo easily fills the shoes of witty relief with such finesse, he turns the most simple of scenes into sublime ones. Hopefully, this could finally showcase his indivual talent... if the writing can keep pace with such a skillful duo.

…

Expand

Not that great of acting but a good story line. They need to keep Tucker Bryant in the show because he adds interest and kept the show

rolling in his episodes. It is a House wanna be but with worse actors. Still interesting and a good show.

…

Expand

This show is aptly named as it is a royal pain and will not be watched in this household.