Network:

USA

Series Premiere Date:

Jul 17, 2014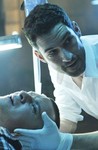 Creator:

Jonathan Levine

Season 1 premiere date:

Jul 17, 2014

Episode Length:

60
Rush is a pretty good pilot that could turn into an excellent addition to USA's lineup of complicated character dramas.

Basically, Rush is USA's answer to "House," albeit with a younger, hotter doctor. Unlike "Satisfaction," Rush doesn't seem overly serialized, which keeps it in line with traditional USA series, only this one is more gray-sky than blue-sky programming.

Writer/director Jonathan Levine created Rush and he brings the show a confidence that new dramas are often lacking.

Rush is apparently a fine surgeon, but whoever is writing this show needs to transplant more personality into him. The bad behavior and occasional wisecracks in the first episode aren't enough.

Rush hits all its notes with a solidity often known as stomping--Love trumps all pain and Rush must change his ways--and while it does offer another version of USA's other freelance-doc drama "Royal Pains," this concept actually doesn't look better in black.

Rush lacks the sunny disposition--and the "MacGyver"-like skills--of his "Royal Pains" counterpart, and while Ellis exudes a certain dangerous charm, I found it wearing thin before the first episode was over.

The show and its central character are thoroughly repulsive.
I really liked the show from day one! It is refreshing, the style is cool and it is just a blast to watch.
In addition the music is wellI really liked the show from day one! It is refreshing, the style is cool and it is just a blast to watch.
In addition the music is well chosen. Can't wait to see more.

…

Expand

It is like a combination of Ray Donovan and Scandal. Rush is a 'fixer' except he has some major problems of his own, But he's likeable and

It is like a combination of Ray Donovan and Scandal. Rush is a 'fixer' except he has some major problems of his own, But he's likeable and funny. Hope people check it out and give it a chance.

…

Expand

Whatever you do if you're new to the show And have started washing the pilot do not give up on it after the first 20 minutes. Sure the guy

Whatever you do if you're new to the show And have started washing the pilot do not give up on it after the first 20 minutes. Sure the guy seems like a repugnant prick but if you hang in there there is quite a bit of charm to be found in the show. The lead actor is new to America I believe and his assistant is charming as hell. His primary love interest is great but I don't think she's going to be a permanent member of the show. It's almost like a harder edged version of royal pains.

…

Expand

Some things were a bit 'much' and over the top (like mexican gangsters all having tattoos and saying 'Ese'), but I liked it better than I

Some things were a bit 'much' and over the top (like mexican gangsters all having tattoos and saying 'Ese'), but I liked it better than I thought I would. I watched it after watching Ray Donovan and it had a similar vibe to me. Only with less professional acting and production values.

…

Expand

I like this actor in other things I have seen him in, like oddly enough the comedy show Miranda.
He is not likable in this. He does not haveI like this actor in other things I have seen him in, like oddly enough the comedy show Miranda.
He is not likable in this. He does not have the writers to make him likable like House.
I watched the first 3 episodes and gave up. Dreary, mean spirited and full of criminals and thugs.
That is not how I choose to spend my TV watching time these days.

…

Expand