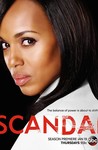 Season 2 premiere date:

Sep 27, 2012

Episode Length:

60
Please enter your birth date to watch this video:
You are not allowed to view this material at this time.
It's lighter, smaller--West Condo!--but still a pleasure. [17 Dec 2012, p.37]

Rhimes doesn't develop these affairs beyond their impact on the characters' careers, perhaps because the tone is supposed to be serious, not fun-flirty like Grey's. So it's hard to tell why these women sacrifice so much for the people they love.
So Addicted and impossible stop to watch. Scandal season 2 finally show the real potential of the show, all the fast dialogues, conspiracy and

So Addicted and impossible stop to watch. Scandal season 2 finally show the real potential of the show, all the fast dialogues, conspiracy and romance are just amazing. Kerry Washington and the rest of the cast shine in just seven episodes.

…

Expand

Impossible miss a single episode. The first part of the show was managed by Fitz's attack, but before then, there is an excellent show. "Happy

Impossible miss a single episode. The first part of the show was managed by Fitz's attack, but before then, there is an excellent show. "Happy Birrthday, Mr. President" make people watching the hit has already began. The episode "Truth of Consequences" brilliant, as well as "Nobody likes babies", "Snake in the garden", "Seven-Fifty-Two", excellent the end of the episode "Any Questions?" and the season finale the best episode yet. This season not only Kerry Washington keep doing brilliant job, but Bellamy Young, Perry, Darby, Katie Lowes, Bucatinsky, and for sure Diaz, stole the show.
The cast, the writing, the directing, the photography, the acting, the costume desing, everything work it out. Well Done ABC's Scandal.
This show deserve more nominations at the Globes, the TCAs, Critics Choice and Emmys.

…

Expand

Well, hats off to Shonda Rhimes. Who would've thought of most of this season's scandalous cases? An attempt to assassinate the President of

Well, hats off to Shonda Rhimes. Who would've thought of most of this season's scandalous cases? An attempt to assassinate the President of the United States is a big risk to take, but the show has done it quite perfectly. I think this is the first time in years a show is actually picking up in considerable improvement both critically and commercially in its subsequent season(s).

…

Collapse

I have to admit I ignored this show when it started because I couldn't stand Greys Anatomy. Then one night I saw this excitement on twitter at

I have to admit I ignored this show when it started because I couldn't stand Greys Anatomy. Then one night I saw this excitement on twitter at about the 6 th episode of season 1 and I have hooked ever since its soapy, over the top and tv needed something like this.

…

Expand

This show is becoming better and better. It has it all: suspense, twists and turns, romance, plots. It is well written, well played and I

This show is becoming better and better. It has it all: suspense, twists and turns, romance, plots. It is well written, well played and I find myself waiting for Thursday nights just to see what's next .

…

Expand

Scandal's second season makes some steps forward in terms of quality by giving it's supporting cast more to do and fleshing them out a bit.

Scandal's second season makes some steps forward in terms of quality by giving it's supporting cast more to do and fleshing them out a bit. While it doesn't do anything to make "Abby" (Darby Stanchfield) any less unlikable, it at least makes the rest of the cast's sub-plots more entertaining. The main appeal of the series is the overall larger plot of the season that runs in the background of this case a week style show.

At 22 roughly hour long episodes, at times the pace can kind of feel like it's dilly-dallying a bit to much as we watch these characters constantly flip-flop in their decisions at The White House. Despite that, the still meatier parts of the series take place in our nation's capital and serve as the show's most interesting component. This season provides a lot twists, drama, and forbidden romance to keep us entertained.

Each episodes individual cases also improved. The writing is no less obvious though, as you can still see the "big twists" that take place in these mini-stories. However, they are filled with more interesting characters for Pope and crew to interact with. New scenarios as well.

Scandal increases in quality from the simple act of making us give a crap about the people Olivia Pope surrounds herself with. Keeping us engaged when they are the only ones onscreen. The show still needs to work on it's at times obvious twists and I would to see it stop retreading so much ground in terms of characters actions (Oh look, Huck's having another breakdown). With plenty of bigger political drama being the heart of the series, Scandal is even more worth your time now.

…

Expand

This review contains spoilers, click expand to view.

I've tried working my way through Season's 1 and 2 yet Kerry Washington's over-enunciation (like she's doing jaw exercises, not a naturally articulate woman), always wearing white (which would be distracting fashion for a supposedly a low-key 'fixer'), seems to over-compensate for the insecurities of the producers/show-runners to the fact she's a black woman. "Look, I'm white just like you! Just a slight sunburn; my suit states it all!"" OK, we get it, she's not society's 'typical' idea of Gen X/Y single black woman, since she's cheating with a powerful married white man. Yet it is getting tiresome fast, and the Crisis-Of-The-Week episode arcs are preposterous.

…

Expand