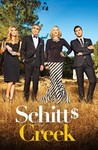 Starring:

Catherine O'Hara

,

Chris Elliott

,

Eugene Levy

Summary:

After the IRS confiscates much of their money, video store magnate Johnny Rose (Eugene Levy), his soap star wife Moira (Catherine O'Hara), and their two kids, David (Daniel Levy) and Alexis (Annie Murphy) are forced to move to the small town of Schitt's Creek that he had bought as a joke

After the IRS confiscates much of their money, video store magnate Johnny Rose (Eugene Levy), his soap star wife Moira (Catherine O'Hara), and their two kids, David (Daniel Levy) and Alexis (Annie Murphy) are forced to move to the small town of Schitt's Creek that he had bought as a joke years ago in the CBC comedy that is the first original scripted show on the POP network.

…

Expand

Genre(s):

Comedy
Season 1 premiere date:

Feb 11, 2015

Episode Length:

30
It's very funny, beautifully played, sometimes touching and, though its premise is familiar--rich family loses money--quite its own animal.

The show has a familiar fish-out-of-water conceit.... But it's always a pleasure to see Levy and O'Hara play off each other. [13 Feb 2014, p.66]

The Levys nicely develop their fish-out-of-water concept by showing how the family tries to fit in out of necessity.

It's a no-frills production with modest, but pleasant rewards.

Around the fourth or fifth episode of Schitt's Creek, the family's behavior starts to become a smidge less predictable: David decides to sell his pricey wardrobe; Alexis finds herself attracted to a bearded environmentalist; Johnny and Moira display genuine affection for each other. These moments signal the small-town comedy just might have room to grow.

The screws need some tightening but the basics are in place and the cast is more than capable.

Schitt's Creek leaves everyone concerned looking adrift without much of a clue, much less a paddle.
I created an account on this site just so I could write this review! This show is fantastic! Maybe because I'm from a small Canadian town of

I created an account on this site just so I could write this review! This show is fantastic! Maybe because I'm from a small Canadian town of 8,000 and have now lived for 30 years in a 'Big City', but I just find it hysterical and easy to relate too. It's also refreshing to have smart humor that allows me to decide when to laugh vs. a laugh track. Great writing, cast, dry delivery and the unexpected! So happy it's been renewed.

…

Expand

LOVE this show and cannot understand why some people are saying it is not funny??? This show has brilliant humor and an amazing cast. A second

LOVE this show and cannot understand why some people are saying it is not funny??? This show has brilliant humor and an amazing cast. A second season is a MUST!

…

Expand

I came across this gem by chance while travelling overseas recently. I knew nothing about it previously. In one sitting I watched 4 episodes

I came across this gem by chance while travelling overseas recently. I knew nothing about it previously. In one sitting I watched 4 episodes back to back. I was hooked before the first one finished. What a great quirky show - and so refreshing after being subjected to a monotone of programming that seems to have gone on for years now. Of course, there have been similar gems in that time such as Arrested Development for example - kind of 'alternative' off centre comedy, that is very easy on the senses, and leaves you smiling, satisfied and wanting more. Cast are wonderful - a delight to watch - perfect choices - with Catharine O'Hara and Eugene Levy totally one with their characters. The story line is not one they are expecting you to swallow - for those that may need to be reminded that this is a TV series, not real life - however, the premise for the story line sets the scene perfectly and is naturally secondary to what will keep you coming back for more - the delightful characters and their immersive interactions. I can honestly say that was the most enjoyable piece of TV I have seen for a very long time. Scripting is spot on and timing is great. Can't wait to find where this series is available so I can watch the complete 1st series. A definite yes for anyone who enjoys jumping out of mainstream when given the chance - and into something that has a little class and wit, and is actually genuinely funny. No fake audience laughter here telling you which parts are supposed to be funny - you'll discover those easily enough for yourself.

…

Expand

Fantastic show. One of the best programs on TV right now. Perhaps are more dry humor than some would like, but for those that like dry humor,

Fantastic show. One of the best programs on TV right now. Perhaps are more dry humor than some would like, but for those that like dry humor, brilliant acting, great dialogues and rich character relations - this is a show for you. Brilliant.

…

Expand

Not only is this show very funny, it stars the very funny Eugene Levy and Catherine O'hara. After I binge-watched the first season on amazon,

Not only is this show very funny, it stars the very funny Eugene Levy and Catherine O'hara. After I binge-watched the first season on amazon, I wikipedia'd them and learned that after over 40 years since performing in Second City Ontario together, they are on this show together. This warms my heart and makes me love this show more. Also, I am in love with Dan Levy now and want to act like his character in my spare time.

…

Expand

The premise for the show has a bit of promise, but it is let down by below average writing and emotionless acting
The only shining light isThe premise for the show has a bit of promise, but it is let down by below average writing and emotionless acting
The only shining light is Emily Hampshire who at least appears to have a heart and soul and a healthy sense of irony and sarcasm.
The show doesn't really need to have a euphemistic title. The real S**t word applies.

…

Expand

Absolutely atrocious! It would be interesting to know exactly when Eugene Levy lost the plot and became unable to distinguish funny from

Absolutely atrocious! It would be interesting to know exactly when Eugene Levy lost the plot and became unable to distinguish funny from boring, predictable and unimaginative. Maybe he's trying to help launch his son's career, which is understandable, but shame on him for not being honest with the boy and telling him the truth: THIS IS TERRIBLE. As far as the younger Levy goes – he shouldn't write or act. Ever. I just feel sorry for Catherine O'Hara for being involved with this drivel.

…

Expand