Network:

NBC

Series Premiere Date:

Oct 3, 2013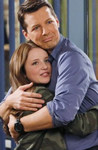 Starring:

Sean Hayes

,

Linda Lavin

,

Thomas Lennon

Summary:

Sean Hayes (Will & Grace) returns to NBC as a divorced gay dad whose teenage daughter suddenly moves in with him at the same time his job becomes more demanding. Thomas Lennon (The State, Reno 911), Linda Lavin (Alice), Echo Kellum (Ben and Kate), and Megan Hilty (Smash) also star, and the

Sean Hayes (Will & Grace) returns to NBC as a divorced gay dad whose teenage daughter suddenly moves in with him at the same time his job becomes more demanding. Thomas Lennon (The State, Reno 911), Linda Lavin (Alice), Echo Kellum (Ben and Kate), and Megan Hilty (Smash) also star, and the series comes from Better Off Ted creator Victor Fresco.

…

Expand

Genre(s):

Comedy
Creator:

Victor Fresco

Season 1 premiere date:

Oct 3, 2013

Episode Length:

30
Sean Saves the World is like a comedy cruise to self-discovery, with both Sean and his daughter learning of strengths and weaknesses they didn't know they had, the process punctuated with keenly funny dialogue and precision timing.

So, concept, story, dialogue: just okay. Cast: outstanding. Sean Saves the World is on my "wait and see" list for sure.

For better or worse, Sean Saves the World is exactly what he wants it to be--an old school, joke-loaded, histrionic showcase for himself.

Even with savvy veterans and a relatively fresh newcomer like Isler around him, little about Sean Saves the World will make most viewers keep coming back.

A frantic, erratic pace that keeps it from really getting anywhere.

The good news is that Hayes has been given a serviceable supporting ensemble.... The bad news is that Hayes isn't so much gay as he is neutered. And Sean Saves the World has the archaic look and feel of an '80s show.

Basically, no cast has ever meshed less successfully than this one.... The situation set up for the comedy is all over the map and indecipherable, never more so than at work. The home-life scenes just have "Fake Sitcom" spray-painted all over them.
Great Show, very funny, love the cast and especially Elle
Must see I can't wait till next week. Sean is such a great actor,
Linda is a veryGreat Show, very funny, love the cast and especially Elle
Must see I can't wait till next week. Sean is such a great actor,
Linda is a very special part of this show. All the cast has such great timing
My favorite new show of the season

…

Expand

Maybe it is because I never really watched Will and Grace, or maybe it is because I'm not that familiar with Lavin, either way I actually

Maybe it is because I never really watched Will and Grace, or maybe it is because I'm not that familiar with Lavin, either way I actually enjoy this show. I've seen a few episodes of Will and Grace and I'm able to completely separate Sean Hayes' characters. This newer character is much more toned down in comparison while there are still hints of Jack I don't see it nearly as much as other people do. On an already packed Thursday night I have to sift through all the mediocrity and find a show that truly shines with humor that I can both appreciate, understand, and enjoy. To me, Sean Saves the World is my 9:00pm winner.

…

Expand

I love this show! Not crazy about the title, but the show concept is great, different from anything on TV. The Entire cast is amazing. Great

I love this show! Not crazy about the title, but the show concept is great, different from anything on TV. The Entire cast is amazing. Great to see Linda Lavin again. She looks amazing!! Sean is the best! Glad to see him back on TV. Can't wait for Season 2 of 'Sean Saves the World'.

…

Expand

It's ust a classic family comedy show like we saw like a thousand times... sometimes amusing, sometimes too much fake gay acting and quite a

It's ust a classic family comedy show like we saw like a thousand times... sometimes amusing, sometimes too much fake gay acting and quite a few cliches.

…

Expand

For some believe, Sean Hayes's NBC comeback after Will & Grace ended sometime in 2003 or 2004 hasn't been getting a lot of attention about the

For some believe, Sean Hayes's NBC comeback after Will & Grace ended sometime in 2003 or 2004 hasn't been getting a lot of attention about the new comedy called "Sean Saves The World." I don't know why they called "saves the world" as a TV series, but what is Sean really saving the world for? Maybe he is going to survive in the ratings, not quite since the ALCS is next week. I really like Sean Hayes, but "Sean Saves the World" is D.O.A.

…

Expand

a good comedy but it lacking humor they did it with full house and now they did it again. What a shame Grade

a good comedy but it lacking humor they did it with full house and now they did it again. What a shame Grade C....................................

…

Collapse

I guess the will & grace money ran out...this show is absolutely horrible...there is none of the Jack Macfarland energy or creativity....He

I guess the will & grace money ran out...this show is absolutely horrible...there is none of the Jack Macfarland energy or creativity....He seems to be sleepwalking through it each week....he obviously misses that easy big tv money....really sad and disappointing....he was awesome in the 3 stooges movie, literally stealing the movie as Larry, which is hard to do since Larry is the least popular stooge...come on Sean...your better than this.

…

Expand