Network:

HBO

Series Premiere Date:

Oct 28, 2013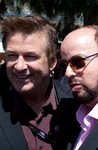 Summary:

Director-writer James Toback and Alec Baldwin go to Cannes to solicit funding for a film called "Last Tango in Tikrit" and along the way talk to other filmmakers about the film business in this HBO "documentary."

Genre(s):

Movie/Mini-Series

,

Documentary
Show Type:

TV Movie

Season 1 premiere date:

Oct 28, 2013
Every enlightening, poignant or funny word is true in the documentary airing Monday on HBO. The fact that it is so funny eventually becomes strangely sad, which makes the film thoroughly enjoyable but also irresistibly provocative.

Seduced and Abandoned doesn't always stay on track, but nonetheless never derails. It's both a romp and a stomp, with Cannes the go-between.

While Seduced and Abandoned may be hard to categorize, it is easy to sum up: amazing.

There are knocks in Seduced and Abandoned, but none of them seem that hard.

If it's even partly a put-on, Seduced and Abandoned is nevertheless a fun, larky travel essay and commentary on the film biz, an exquisite wallow in the most rarefied sort of first-world problems.

[Toback is] an uneven director, yes, but a frequently brilliant interviewer.

It's all done in a tone of subtly absurdist humor, which is fine but wearing. While explanations of international marketability and aftermarket products may fascinate Hollywood, they soon become white noise.
You know how there are certain projects that critics love just because they think the concept is clever, they like the people, there's a sly

You know how there are certain projects that critics love just because they think the concept is clever, they like the people, there's a sly insider prospective, etc. This is one of those projects. The reviews were good, I like Alec Baldwin, I was expecting to like it. BUT about half way in, I was bored and not really appreciating it.

The concept is unusual, a movie about making a movie loaded with interviews with real people we all know. Many of the interviews were tedious, (Ryan Gosling an exception)

Baldwin and James Toback fill in the gaps with lots of footage of themselves engaged in various activities related to making their faux film. This may be entertaining for those who find Baldwin and Toback as fascinating as they themselves apparently believe they are.

The critics may like it, I was disappointed. Feel like this is a case of "The Emperors New Clothes," nothing really there.

…

Expand