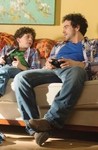 Starring:

Stephanie Anne Mills

,

Amanda Brugel

,

Adam Korson

Summary:

Bartender Harry Dacosta (Adam Korson) becomes involved with the families and lives of his nine-year old son and 15-year old daughter he fathered through sperm donation in this imported Canadian comedy series.

[Originally aired on Canada's CityTV on 4 February 2013 - 29 April 2013]

Genre(s):

Comedy
Creator:

Joseph Raso

Season 1 premiere date:

Feb 4, 2013

Episode Length:

30
Seed has a solid sitcom foundation, but suffers from limited ambition and a complete lack of promotion that makes it feel like a low priority for the network.

Little happens in the two episodes I've seen that could not be mathematically extrapolated from the premise.... yet it works pretty well. The actors are generally charming.

Seed isn't great TV, but it's a funny enough diversion in the context of generally disappointing summer comedy.

As derivative as it is, Seed is perfectly harmless, and might even deliver an occasional smile. Yet even with the Harry-Rose relationship offering a small serialized thread, it's just hard to see any part of Seed ever developing into much.

Consider Seed the cutoffs and flip-flops of the comedy dress code. Acceptable in summer. But just barely.

The show is pleasant without being as good as it could be.

[The cast are] all quirky, setting up an endless stream of mix-and-match jokes that don't seem interested in going much of anywhere.
Some shows have premises that are a little hard to swallow, as it is with this show.
Three families find out the identity of their spermSome shows have premises that are a little hard to swallow, as it is with this show.
Three families find out the identity of their sperm donor and actually meet him.

What are the odds that all those families would want to
bond with him and even let him into their families? Exactly.
If that's too silly for you, then stay away.

I managed to look over this main flaw because the cast is likable, the episodes
are entertaining and funny enough, and I like the refreshing lack of stupidity.
The show is comfortable with what it is and doesn't struggle to be anything more.
It's light fun that doesn't take itself too seriously and in this case it's enough for me

…

Expand