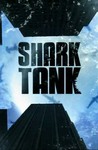 Summary:

Based on the Japanese reality show (also adapted in the UK as Dragon's Den, currently on BBC America), five successful businessmen and women judge budding entrepreneurs to determine whether to invest in their ideas or not.

Genre(s):

Reality

,

Game Show

Show Type:

Between Seasons

Season 1 premiere date:

Aug 9, 2009

Episode Length:

60

Air Time:

09:00 PM
The moneymen ask informed questions and make shrewd decisions, a welcome relief from Donald Trump's capricious calls on Burnett's "Celebrity Apprentice."

ABC's Shark Tank is easily the best new reality TV show to air this summer (which, admittedly, isn't saying much).

It sounds gimmicky and visually tedious, with most of the so-called action taking place in a conference room. It's all those things, but the moments of misery make it memorable.

Brisk, sharp and surprisingly emotional for what essentially is a series of venture-capital-investment interviews, the show--based on the Japanese format "Dragons' Den"--balances the human element of its wish-fulfilling conceit with at least the illusion of the business legitimacy that made Burnett's "The Apprentice" such campy fun.

The cleverest part of the show is that it makes the judges into contestants; they compete against one another for the right to invest in a business, and they haggle with the entrepreneurs over the terms of their investment.

Business buffs may love it, but Shark Tank lacks the lush visuals of "Survivor" and the star power of Trump. It just doesn't have the same bite.

There are so many things I hate about his new show, In the Shark Tank, that I started numbering them just to calm down. Where to start?
Viewing several seasons of Shark Tank, I find the show very interesting from the standpoint of someone that works in lending with various

companies. Although it may seem that the "Sharks" are very picky and ask a lot of questions, they have a point. In order for a business to succeed a plan needs to be in place and results need to be documented. The show obviously does not detail everything but shows the highlights in order to get the viewer interested. It would be interesting to see how the businesses do that actually receive the money and or maybe even the ones that don't. They do show one every now and then but a past show would be definitely be an interest. Although, the businesses are there for a real need it is fun to watch the "Sharks" make deals among each other and to see the interesting products they bring in. I have ordered a couple of items after viewing on the show that may have never seen before this. Also, I believe even if these businesses all don't receive the money, by being on this show their businesses grows from mere audience viewing and interest.

…

Expand