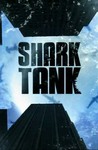 Summary:

Based on the Japanese reality show (also adapted in the UK as Dragon's Den, currently on BBC America), five successful businessmen and women judge budding entrepreneurs to determine whether to invest in their ideas or not.

Genre(s):

Reality

,

Game Show
Show Type:

Between Seasons

Season 1 premiere date:

Aug 9, 2009

Episode Length:

60

Air Time:

09:00 PM
The moneymen ask informed questions and make shrewd decisions, a welcome relief from Donald Trump's capricious calls on Burnett's "Celebrity Apprentice."

ABC's Shark Tank is easily the best new reality TV show to air this summer (which, admittedly, isn't saying much).

It sounds gimmicky and visually tedious, with most of the so-called action taking place in a conference room. It's all those things, but the moments of misery make it memorable.

Brisk, sharp and surprisingly emotional for what essentially is a series of venture-capital-investment interviews, the show--based on the Japanese format "Dragons' Den"--balances the human element of its wish-fulfilling conceit with at least the illusion of the business legitimacy that made Burnett's "The Apprentice" such campy fun.

The cleverest part of the show is that it makes the judges into contestants; they compete against one another for the right to invest in a business, and they haggle with the entrepreneurs over the terms of their investment.

Business buffs may love it, but Shark Tank lacks the lush visuals of "Survivor" and the star power of Trump. It just doesn't have the same bite.

There are so many things I hate about his new show, In the Shark Tank, that I started numbering them just to calm down. Where to start?
I love the show. It's different, exciting and it's real money! What else do you want?

Absolutely riveting reality show that geniusly gives hope to people looking to make their idea or company fly in a time of economic hardship.

Truly inspires one to learn more about the business of business - and hey, this show is a free clinic. The sharks have varied and fascinating personalities, the guests have ideas that range from brilliant to loony - it's like a real life version of "monopoly" that may end up becoming the sleeper hit of the season. Kudos!

…

Expand

Loved this show!!! Sorry to see it off the air. I hope it will return soon. Fun and exciting to watch the 5 sharks interact as well as

listening to how they make a decision on what is or is not a good investment. I found the show entertaining as well as educational.

…

Expand

Hey Page Wiser from Chicago!!! You TOTALLY miss the mark on this one. I guess that

I love the idea and have a very hot patent and business plan that I want to bring to the "TANK", but don't want someone to steal it from me.

A bunch of rich people trying to rip off good ideas and products. Didn't like it in Canada either.