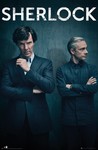 Starring:

Martin Freeman

,

Benedict Cumberbatch

Summary:

The British detective series returns with three new episodes and Toby Jones is set to be the duo's latest antagonist.

Genre(s):

Drama

,

Suspense
Please enter your birth date to watch this video:
You are not allowed to view this material at this time.
Helping move things along at a nice pace is Mark Gatiss' script, which is quite strong. Though not his best for the series, he clearly relishes taking the show into a more serious direction, as well as providing lots of customary laughs in the episode's first half.

Watching "Sherlock" is like dropping in on old friends who are as smart and sarcastic as ever but don't seem to have as much joy in their lives anymore.

Unfortunately, the season four premiere has revealed that Sherlock's most promising and divisive element in the wake of the season three finale--the evolving three-way relationship between Sherlock (Benedict Cumberbatch), John Watson (Martin Freeman), and John's mysterious wife, Mary (Amanda Abbington)--is little more than a giant distraction, a red herring for ... whatever the show has up its sleeve next.
not the strongest start we couldve hoped for, but how can we judge based on one episode. tonights episode was mindblowing and i have very high

not the strongest start we couldve hoped for, but how can we judge based on one episode. tonights episode was mindblowing and i have very high hopes for the next one. gotta love sherklock

…

Expand

Never gets old...never gets stale...never lets down its fan base. Wickedly smart fun....hang on to your hat...suspend your disbelief, once

Never gets old...never gets stale...never lets down its fan base. Wickedly smart fun....hang on to your hat...suspend your disbelief, once again this ride is worth it.

…

Expand

I acknowledge the criticisms about this season, but I still found it more entertaining than a lot of other shows.

Yes, there wasn't a lotI acknowledge the criticisms about this season, but I still found it more entertaining than a lot of other shows.

Yes, there wasn't a lot of actual mystery solving this season, the first episode was all over the place, the second episode's villain is a little over the top (though very menacing), and there are logic holes in the final episode.

Still, the cast is still on point, and it's always fun to see Sherlock and Watson. The dramatic moments in this season are far superior to previous seasons. Finally, not to give away spoilers but the main antagonist this season is quite effective.

…

Expand

Well polished and executed, great acting. The plot however is disappointing - fragmented, hectic and plainly obvious. Not even a tiny step

Well polished and executed, great acting. The plot however is disappointing - fragmented, hectic and plainly obvious. Not even a tiny step towards uncovering the intrigue of Moriarty return story line from previous season.

…

Expand

Even with the amazing cinematography and brilliant direction, the creators could not deter the show falling into a disappointing territory.

Even with the amazing cinematography and brilliant direction, the creators could not deter the show falling into a disappointing territory. The new season is disjointed, fragmented and convoluted, and often funny but it does not lead to anything, and even the relationship between Sherlock and John Watson lacks any kind of charm and it doesn't deliver on the grounds we all have been waiting for.

…

Expand

hi.this show was amazing in s1 and s2 .but after s2 Unfortunately The story was very poor and defeated. I waited 3 years for Season 4 . season

hi.this show was amazing in s1 and s2 .but after s2 Unfortunately The story was very poor and defeated. I waited 3 years for Season 4 . season 4 = Terribly weak and empty story !!!

…

Expand

What a piece of garbage. This only rug pulled this appalling, misogynistic queer bait of a season managed is to show that the writers had no

What a piece of garbage. This only rug pulled this appalling, misogynistic queer bait of a season managed is to show that the writers had no clue where they were headed this whole time. The amount of inconsistencies is mind blowing. The acting was fantastic but could never redeem this insult to the viewers' intelligence.

…

Expand