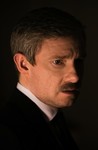 Summary:

Sherlock Holmes and Dr. Watson are on the case again in stories based on A Scandal in Bohemia, The Hound of the Baskervilles, and The Final Problem.

Genre(s):

Drama

,

Suspense

Show Type:

Between Seasons

Season 2 premiere date:

Jan 1, 2012

Episode Length:

90

Air Time:

08:00 PM
In season 2 of PBS's richly clever Sherlock, the Victorian tales have been refitted to our century. [14 May 2012, p.44]

This is TV pleasure at its most intense, without even a shade of guilt.

Each week, the series takes on a Holmes classic, updates it, turns it on its ear and leaves you breathless.

Sherlock, which impresses again in the three-episode season that returns on PBS.

Sherlock is an elegant updating of Conan Doyle's stories, not an overhaul.

Most of the time Sherlock's cheeky sense of humor makes this version of the character a delight.

Sherlock is too often a petulant know-it-all, which grows tiresome and makes a viewer painfully aware that each episode is 90 minutes long.... Sherlock's redundancies are improved by a couple of longer story arcs.
Wow. And I thought series one was as good as it gets. Sherlock season 2 is one of the best television series I have ever seen. Just about

everything seems to be upped from season one, and season one was already brilliant in so many ways. Each of the 3 episodes are ten out of ten in my eyes and I could happily watch them over and over. Benedict Cumberbatch and Martin Freeman are as great as ever as well as all of the supporting cast but the stealer for me was Andrew Scott as Moriarty. He is the reason why the final episode of the three is absolutely jaw dropping and he is just a joy to watch. The visual effects seem to be bigger and better than season one, you can definitely tell that the shows budget has increased and it deserved the increase! Overall fantastic writing, directing and acting all wrapped into one fantastic show, you have to watch this!

…

Expand

It would be difficult to find fault with even such a modern update of the most famous fictional detective. It is clever, it is witty, its

humour is deliciously highbrow, the actors and actresses have superb performances - they are such a perfect fit considering the roles that they play - Moffat and Gatiss should be proud for what genius and creativity they have devoted to adapting the works of Sir Arthur Conan Doyle. Need I say more?

…

Expand

A truly perfect series as far as character development, story and everything technical are concerned. A stunning piece of television to watch

if only for the beautiful editing. Cumberbatch and Freeman act the roles perfectly and the books are complimented brilliantly whilst modernising the intelligent franchise. Would recommend the series to anyone, gave me goosebumps

…

Expand

Simply put it, the first and last episode of the second season is by far the best television I've seen in many years. The series are loyal to

the books with outstanding overall performances that are able to layer the characters and give them the required depth and complexity, while keeping it humorous and witty. If you are a S.H. fan, you own it to yourself watching this series.

…

Expand

The best T.V show ever, prefer it over the films.
I laughed, I cried and I was baffled by amazing unpredictable twists with a great cast.

Everyone needs to see it!

…

Expand

This review contains spoilers, click expand to view. Season 2 of Sherlock picks up right where it left off. Moriarty and Sherlock have each other at gunpoint when, all of a sudden, 'Staying Alive' starts playing?? It's Moriarty's phone, and it turns out he has to go. Uh...

While this isn't exactly the follow-up I was hoping from The Great Game, I have to admit that it was one laugh-out-loud moment. It's smart humour too; can you imagine Andrew Scott's Moriarty having a different ringtone? I do hope that phone call comes back into play, since it seemed nothing but an easy and comedic way out, but given Morality's fate this Season, things are looking bleak.

After a slightly disappointing opening, A Scandal in Belgravia, does a great job as an individual arc. I say individual arc but I really hope Lara Pulver's character, Irene Adler returns. As a skilled dominatrix, she uses her sexual powers to get into Sherlock's head. After Irene's - um - interesting first impression, they ensue in physiological warfare that comes dangerously close to flirtation (although Sherlock would never admit it).

If Sherlock could care about any woman, it'd be Irene. She's a clever character, and although she used her wits initially to attack Sherlock, she was ultimately a tool in Moriarty's game. Sherlock obviously grew quite fond of her, saving he life by the episode's end. And this from a high-functioning sociopath.

One thing that DID bug me about this episode was a sexist/homophobic undertone. Irene is supposedly a lesbian but she falls head-over-heels in love with Sherlock. Seriously? I do think this relationship has legs and hope Irene returns in the future but I'm hugely confused by Steven Moffat's decision to make her a lesbian. Or maybe I shouldn't be surprised since Moffat's reportedly quite the misogynist.

The Hounds of Bakersville is a weaker entry, in my opinion. It's at least marginally better than Season 1's The Blind Banker but like that episode, it feels stretched too thin over its 90 minute runtime. Not a whole lot to talk about here, just good old Sherlock and Watson case busting.

If you think think this is starting to sound like a Sherlock bashing session, then fear not: The Reichenbach fall is one of those TV episodes that make you want to just stand up and applaud once you're through. The intensity is dialled up a notch as Moriarty seeks to absolutely destroy Sherlock's life.

Moriarty, realizing Sherlock's friends are easier target, sets up elaborate traps for Sherlock to walk through, continually eating away at his stellar reputation. Moriarty lies without flinching, convincing people he was nothing more than an actor that Sherlock hired because he was bored, and that he has a code that can give a man all the power in the world. Almost getting himself imprisoned was just part of his plan to ruin Sherlock too. Moriarty wasn't pulling any punches.

Moriarty does his best but Sherlock ends up victorious in the end, somehow staging his own suicide, while Moriarty actually did the same. how exactly Sherlock survived the fall is unclear and was a major talking point during the show's hiatus.

And I haven't even talked about Watson. Things were complicated between him and Sherlock but Freeman's last few scenes were very emotionally touching. Sherlock may have been arrogant but he was Watson's friend.

Sherlock Season 2 is everything Season 1 promised to be. With season 3 airing soon in America, let's hope that another two years don't go by without this excellent series.

…

Expand

This review contains spoilers, click expand to view. The baskerville episode was un-watchable.
But the whole series has a feel of the authors dumbing things down for the rubes.
1. the conceit of having the murder being shown in the scene why? so we don't have to be troubled solving anything. what is this CSI?
2. Labeling the clues with cg text so the writer can be lazy writing dialogue and the watcher can be lazy on figuring out what is important. This robs us of the two joy of mysteries being surprised or figuring them out.
3. having Jim Moriarty be behind every single crime but having the worlds greatest consulting detective never say maybe "hey Jim is behind this on too ?" as his first guess. like it is a saturday morning cartoon.
4. having Jim Moriarty be behind every single crime by inserting a Post-mortem "some guy named Moriarty told me to do it"
5. Irene Adler her password was "sher"-locked? also in that episode the cameras and graphics told us Holmes could not read her but 1 minute later Holmes reads her.
It is stupid and sloppy show ,it is fun, but it is not smart. I like it but I also like the A-team mostly for the same reasons.

…

Expand
We've reached the end of another TV season, so it's time once again for our annual look at the best and worst shows. Find out which first-year series impressed critics and users the most, and see how the major networks compared.

Summer will bring some of TV's best shows (including "Breaking Bad" and "Louie," and--possibly--new shows like "The Newsroom"). Inside, we look at the 20 most noteworthy series, specials, and miniseries coming this summer. You'll also find a full calendar of premiere dates from now through August.