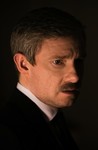 Summary:

Sherlock Holmes and Dr. Watson are on the case again in stories based on A Scandal in Bohemia, The Hound of the Baskervilles, and The Final Problem.

Genre(s):

Drama

,

Suspense
Show Type:

In Season

Season 2 premiere date:

Jan 1, 2012

Episode Length:

90

Air Time:

08:00 PM
In season 2 of PBS's richly clever Sherlock, the Victorian tales have been refitted to our century. [14 May 2012, p.44]

This is TV pleasure at its most intense, without even a shade of guilt.

Each week, the series takes on a Holmes classic, updates it, turns it on its ear and leaves you breathless.

Sherlock, which impresses again in the three-episode season that returns on PBS.

Sherlock is an elegant updating of Conan Doyle's stories, not an overhaul.

Most of the time Sherlock's cheeky sense of humor makes this version of the character a delight.

Sherlock is too often a petulant know-it-all, which grows tiresome and makes a viewer painfully aware that each episode is 90 minutes long.... Sherlock's redundancies are improved by a couple of longer story arcs.
It is so exciting (and rear) to witness a production that has comedy, psychology, mystery, and terror all in one show. But the modern day

Sherlock accomplishes it with an absolute perfect rhythm. Genius. Thank you actors, writers, and the like. 11/10

…

Expand

It would be difficult to find fault with even such a modern update of the most famous fictional detective. It is clever, it is witty, its

humour is deliciously highbrow, the actors and actresses have superb performances - they are such a perfect fit considering the roles that they play - Moffat and Gatiss should be proud for what genius and creativity they have devoted to adapting the works of Sir Arthur Conan Doyle. Need I say more?

…

Expand

This review contains spoilers, click expand to view. Yes, a 10 out of 10. I have not seen a modernization of a show quite as rich as this. Benedict Cummberbatch has quickly become a favorite of mine, though I rarely watch interviews with him because I love the image of him as Sherlock and I don't want to blow it; except for his upcoming appearance in 'Star Trek 2'. He is a perfect replication; troubled, drugged, a complete and utter that you cannot help but love and admire for his ability to excuse his sociopathic self as a huge credit to his character. Without it, he would not be able to be who he is. THE detective of the century.
Then there's Martin Freeman as the incomparable Watson. The reincarnation of the original character is just lovely. Their relationship is like a perfectly imperfect marriage. A reality in which Watson knows he cannot survive without Sherlock. Sherlock becomes his irreplaceable partner, as is painfully brought forth in the final episode of Season 2 when he pleads with Sherlock's grave; "One more miracle for me, Sherlock. Don't be...dead. Would you do that for me?"
I could continue on and on about the glorious characters, the impeccable acting abilities of main characters and side characters alike but I only have 5000 characters and am quite frankly it's late and I'm getting tired.
What I can say for sure is what a perfect summation of a perfect rebooting of the perfect crime duo and, of course, who better to resurrect these characters than Steven Moffat and Mark Gatiss. What a duo these two are! They have true love for these characters as well as they do for Doctor Who and it shows.
I have waited with such anticipation for Season 3. Never before have I stayed so utterly tunnel visioned on a series. It is going to go down as one of the top 5 greatest reboots of a television series. I cannot wait.

…

Expand

Simply put it, the first and last episode of the second season is by far the best television I've seen in many years. The series are loyal to

the books with outstanding overall performances that are able to layer the characters and give them the required depth and complexity, while keeping it humorous and witty. If you are a S.H. fan, you own it to yourself watching this series.

…

Expand

The best T.V show ever, prefer it over the films.
I laughed, I cried and I was baffled by amazing unpredictable twists with a great cast.

Everyone needs to see it!

…

Expand

sherlock continues the same in quality in this second season,it had all the good things the first season had and the same problem as the

first one(only three episodes per season).

…

Expand

This review contains spoilers, click expand to view. The baskerville episode was un-watchable.
But the whole series has a feel of the authors dumbing things down for the rubes.
1. the conceit of having the murder being shown in the scene why? so we don't have to be troubled solving anything. what is this CSI?
2. Labeling the clues with cg text so the writer can be lazy writing dialogue and the watcher can be lazy on figuring out what is important. This robs us of the two joy of mysteries being surprised or figuring them out.
3. having Jim Moriarty be behind every single crime but having the worlds greatest consulting detective never say maybe "hey Jim is behind this on too ?" as his first guess. like it is a saturday morning cartoon.
4. having Jim Moriarty be behind every single crime by inserting a Post-mortem "some guy named Moriarty told me to do it"
5. Irene Adler her password was "sher"-locked? also in that episode the cameras and graphics told us Holmes could not read her but 1 minute later Holmes reads her.
It is stupid and sloppy show ,it is fun, but it is not smart. I like it but I also like the A-team mostly for the same reasons.

…

Expand
We've reached the end of another TV season, so it's time once again for our annual look at the best and worst shows. Find out which first-year series impressed critics and users the most, and see how the major networks compared.

Summer will bring some of TV's best shows (including "Breaking Bad" and "Louie," and--possibly--new shows like "The Newsroom"). Inside, we look at the 20 most noteworthy series, specials, and miniseries coming this summer. You'll also find a full calendar of premiere dates from now through August.