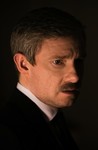 Summary:

Two years have passed since the end of The Reichenbach Fall and Sherlock returns to London to find not everything is the same in the first episode, which was loosely based on Conan Doyle's The Adventure of the Empty House.

Genre(s):

Drama

,

Suspense
Show Type:

In Season

Season 3 premiere date:

Jan 19, 2014

Episode Length:

90

Air Time:

08:00 PM
The performances are even better than in previous years, with brand new but fully credible sides of Holmes' and Watson's characters. And the writing, by Moffat and Gatiss, is in a league by itself.

The PBS series is more marvelous, and thrilling, than ever.

Sherlock (and Sherlock [the show]) is that good, we do forgive his callousness, and yeah, we'll wait for two years for his return and never let our fervor flag. In exchange, when the miracle happens and he (and the show) come back, he's as good or maybe better than ever.

Mostly, the show deserves to do well because it's so bloody good--smart, whimsical and occasionally laugh-out-loud funny, finding fresh, distinctive avenues into this venerable character, even with multiple incarnations currently in circulation.

[Sherlock's third season] at last settles into its own assured rhythm, simultaneously honoring the swift escapist roots of Doyle's writing while also mounting a heady meditation on friendship and brotherhood.

Watching these two friends bond anew--and meeting a more empathetic. vulnerable Holmes--makes for warm and witty fun. [17 Jan 2014, p.61]

Sherlock moves swiftly and intelligently but also a little too coldly, like a long commercial for better WiFi..... Cumberbatch's take on Holmes's narcissism can come off as skeevishly robotic. If not for Freeman's deeper, more human work as Watson, the style would soon go sterile.
After a year and a half hiatus, the greatest British television phenomenon since Doctor Who proves that, going into its third season, it's not

planning on slowing down or falling for third season slump. BBC's Sherlock, which features electrifying writing, high-end production, and absolutely phenomenal acting, hits the ground running in its first episode, resolving the cliffhanger of the decade from season two while warmly inviting its viewers back into its slick crime-solving, ego-busting milieu.
If there is one thing in this first episode that stands out as particularly laudable, it is Martin Freeman's dazzling portrayal of John Watson. After spending more than a year coping with the traumatic suicide of his closest friend (the feelings run so deep, some will speculate it goes beyond platonic), he reacts to the untimely and jocular return of Sherlock with such passion and credibility that he uncompromisingly validates - no, reifies - no, objectifies the character he has been able to establish with only nine hours of television. If Freeman (and to a lesser extent, Cumberbatch) are not showered with nominations by around this time of the year in 2015, you can be rest assured I will throw a fit.
Glossy visual effects create more elaborated manifestations of Sherlock's enigmatic thought processes (more words are floating in mid-air, more images and memories whoosh by the screen to the sound of beeping technology and murmuring voices), but it's always for the better. Although some may consider the crime the duo solve in the first episode to be a little underdeveloped and convoluted, any returning fan (I included) will proudly proclaim how blown away they were by what is arguably the most impressive season premiere in Sherlock history. Unsurprisingly, the Brits at BBC have done it again.

FINAL SCORE: 97.5 (almost perfect ---------------o----- perfect)

…

Expand

This review contains spoilers, click expand to view.

Series 3 was spectacular. It was perfect in every way. People complain about underuse of Moriarty and because of that they didn't like the new villian. I loved Charles Augustus Magnussen. It was a great character. My only dissapointment is we didn't have an entire series about him like Moriarty. I do think that they shouldn't bring Moriarty back just yet. They should've focused more on Magnussen. Still a perfect series for a magnificent show.

…

Expand

+ Amazing Story.
+ Amazing development of the characters personalties.
+ Plot twists that will confuse you like a Rubik's cube.
- Can drag on with new longer episodes.
- The series only featured 3 episodes.

…

Expand

In this season Moffat and the gang have given up the pretense that this is a mystery program and have presented us with unadulterated Conan

Doyle themed Yaoi. The plots are tortured there is no mystery individual scenes are clever but lend nothing to the plot. (but how could they there is no plot). I guess we should be grateful there are only 3 episodes per season.

…

Expand
We've reached the end of another TV season, so it's time once again for our annual look at the best and worst shows. Find out which first-year series impressed critics and users the most, and see how the major networks compared.

Summer will bring some of TV's best shows (including "Breaking Bad" and "Louie," and--possibly--new shows like "The Newsroom"). Inside, we look at the 20 most noteworthy series, specials, and miniseries coming this summer. You'll also find a full calendar of premiere dates from now through August.