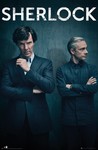 Starring:

Martin Freeman

,

Benedict Cumberbatch

Summary:

Two years have passed since the end of The Reichenbach Fall and Sherlock returns to London to find not everything is the same in the first episode, which was loosely based on Conan Doyle's The Adventure of the Empty House.

Genre(s):

Drama

,

Suspense
Please enter your birth date to watch this video:
You are not allowed to view this material at this time.
The performances are even better than in previous years, with brand new but fully credible sides of Holmes' and Watson's characters. And the writing, by Moffat and Gatiss, is in a league by itself.

The PBS series is more marvelous, and thrilling, than ever.

Sherlock (and Sherlock [the show]) is that good, we do forgive his callousness, and yeah, we'll wait for two years for his return and never let our fervor flag. In exchange, when the miracle happens and he (and the show) come back, he's as good or maybe better than ever.

Mostly, the show deserves to do well because it's so bloody good--smart, whimsical and occasionally laugh-out-loud funny, finding fresh, distinctive avenues into this venerable character, even with multiple incarnations currently in circulation.

[Sherlock's third season] at last settles into its own assured rhythm, simultaneously honoring the swift escapist roots of Doyle's writing while also mounting a heady meditation on friendship and brotherhood.

Watching these two friends bond anew--and meeting a more empathetic. vulnerable Holmes--makes for warm and witty fun. [17 Jan 2014, p.61]

Sherlock moves swiftly and intelligently but also a little too coldly, like a long commercial for better WiFi..... Cumberbatch's take on Holmes's narcissism can come off as skeevishly robotic. If not for Freeman's deeper, more human work as Watson, the style would soon go sterile.
Pretty much the best show on television. The ONLY drawback is that there are only 3 episodes per season, but they are each basically double

Pretty much the best show on television. The ONLY drawback is that there are only 3 episodes per season, but they are each basically double episodes, so 6-ish. Still, infinity is not enough episodes of Sherlock.

…

Expand

Thank for Moffat and Gatiss that make Sherlock be more human which is should be. The cases are not bad but the reunion is great. The stories

Thank for Moffat and Gatiss that make Sherlock be more human which is should be. The cases are not bad but the reunion is great. The stories mimic the canon in sophisticated way. I love this season more than the previous two and I repeatedly watch it until now. :)

…

Expand

After a year and a half hiatus, the greatest British television phenomenon since Doctor Who proves that, going into its third season, it's not

After a year and a half hiatus, the greatest British television phenomenon since Doctor Who proves that, going into its third season, it's not planning on slowing down or falling for third season slump. BBC's Sherlock, which features electrifying writing, high-end production, and absolutely phenomenal acting, hits the ground running in its first episode, resolving the cliffhanger of the decade from season two while warmly inviting its viewers back into its slick crime-solving, ego-busting milieu.
If there is one thing in this first episode that stands out as particularly laudable, it is Martin Freeman's dazzling portrayal of John Watson. After spending more than a year coping with the traumatic suicide of his closest friend (the feelings run so deep, some will speculate it goes beyond platonic), he reacts to the untimely and jocular return of Sherlock with such passion and credibility that he uncompromisingly validates - no, reifies - no, objectifies the character he has been able to establish with only nine hours of television. If Freeman (and to a lesser extent, Cumberbatch) are not showered with nominations by around this time of the year in 2015, you can be rest assured I will throw a fit.
Glossy visual effects create more elaborated manifestations of Sherlock's enigmatic thought processes (more words are floating in mid-air, more images and memories whoosh by the screen to the sound of beeping technology and murmuring voices), but it's always for the better. Although some may consider the crime the duo solve in the first episode to be a little underdeveloped and convoluted, any returning fan (I included) will proudly proclaim how blown away they were by what is arguably the most impressive season premiere in Sherlock history. Unsurprisingly, the Brits at BBC have done it again.

FINAL SCORE: 97.5 (almost perfect ---------------o----- perfect)

…

Collapse

This review contains spoilers, click expand to view. Sherlock Season 3 focuses on character development much more than it has in previous Seasons. While fans may love this shift, I feel that this Season, specifically the first two episodes, suffer from the lack of an interesting core mystery.

The first episode, The Empty Hearse, deals with the fall-out of the cliffhanger. I feel like this episode would've benefited from a B-level case, rather than the huge terrorist threat we're given. It's odd since it feels rushed and uninteresting throughout. One of Sherlock's deductions relied on withheld information too, which is sort of frustrating for the viewers.

I think The Empty Hearse's biggest problem is that it tries to do too much. Yes, this is a 90 minute program but the aftermath of last Season's big cliffhanger weights down half of what makes Sherlock good: the suspense and mystery. The episode does decently fulfil its purpose, however.

Episode one suffered from an interesting case all the way through, but the second episode (The Sign of Three) manages to build intrigue, only to fall apart at the end. Someone who can stab people seemingly through walls is an interesting premise, but the conclusion is one big 'wtf?' moment. Surely, you'd feel it if someone stabbed you, no matter how tight your belt is. And you definitely wouldn't just walk into the shower after pulling out a blade. Sherlock introducing us to the case in his best man speech was a good idea in theory, but this is just poor writing.

There is quite a bit to love about this episode though. Sherlock admitting that he cares about someone other than himself was a huge moment for the character and the series as a whole. We even see this pay off in the finale. There's more great character stuff too, including more hints that Mary isn't who she says she is. There's also some hilarious moments, but I don't think a three episode Season can really afford having a lull in the middle.

In true Sherlock fashion, after a weaker second entry, the third episode (His Last Vow) comes back in full from. I've talked about some of the problems I had with the first two episodes; perhaps the most criminal is not giving Charles Augustus Magnussen enough of a build-up. Charles is an expert blackmailer who pushes people around thanks to his super computer of a brain. He's the most Sherlock-esque villain of the series, and it's not much of a stretch to imagine Sherlock ending up like him if he hadn't have met Watson. That's why it was so powerful symbolically to have Sherlock kill Charles at the end. It also explains why this Season decided to focus so much on character development this time around.

The show is called Sherlock but Freeman's performance as Watson may be his best yet. Learning his wife was lying to him all this time was heartbreaking for poor Watson and Freeman does an amazing job of reflecting the character's emotion.

The reveal at the end about Moriarty's return is something I'm looking forward to with cautious optimism, given this series' murky reputation regarding cliffhangers. They also have to give us a clear explanation as to how Moriarty lived (assuming this wasn't a pre-recorded message) because they can't just bring everyone back to life and expect fans not to lose interest. Notwithstanding, Moriarty's return probably only means good things for the series, making Season 4's wait all the more tantalizing.

…

Expand

This review contains spoilers, click expand to view. Hooray, Sherlock is back! But, I cannot help but to add the comment -- "slightly disappointing."

The opening scenes explaining the failure of Sherlock's suicide seemed initially ridiculous but I did feel they were eventually funny, clumsy funny, but funny. The whole of Episode 1 of Season 3 seemed essentially contrived. Bits and pieces pasted together to produce a show without much cohesion and, frankly, not a heckuva lot of humor (humour?). Martin Freeman was his reliable old Dr. Watson Self. Mr. Cumberbatch, on the other hand, indulged himself in a bit too much of mugging rather than comic acting. I hope he is not becoming impressed with his legion of teeny-bopper fans.

I still enjoyed the show but it definitely paled in comparison with the first two seasons. Oh, and the music is different and much less creative and interesting.

…

Expand

Oh lord, where to start. When this series had just started, I sat there thinking "Finally, a show without the 'emotional interpersonal drama'

Oh lord, where to start. When this series had just started, I sat there thinking "Finally, a show without the 'emotional interpersonal drama' that so plagues just about every single series in every TV show ever." [I'm not talking about basic human interaction, I mean the whole 'you lied to me' I'm sorry' 'I can't believe you anymore, I'm leaving' 'baby come back blah blah' that even Breaking Bad cannot shake] Previous seasons were case-oriented, character building, to the point. And then there's this season...It's so...melodramatic? Disconnected? Soap Opera-y? Overly stylistic? I feel like the Sherlock and John we knew from seasons 1 and 2 are no longer with us, especially Sherlock. He's grown so emotional and, although I suppose this is more personal than anything, no longer relatable. God I am disappointed. Also if the gay fan-service wagon is not in your interests, watch out, the whole season's peppered with it. I don't mind but it made a few of my friends stop watching because of such.

…

Expand

Atrocious. Among the worst television ever produced.

It can best be explained by discussing the episode that really killed the series. So,Atrocious. Among the worst television ever produced.

It can best be explained by discussing the episode that really killed the series. So, with regard to one episode only, I am about to provide numerous spoilers. So ....

SPOILER ALERT SPOILER ALERT - regarding only the blackmailer episode, which I believe was the final one of the season.

SPOILERS START NOW.

The final episode (inspired somewhat by The Aventure of Charles Augustus Milverton, by Arthur Conan Doyle, and the Jeremy Brett Sherlcok Holmes episode, The Master Blackmailer) took the cake. You see there is a blackmailer who wears computerized eyeglasses - like Google Glass - with a screen that recognizes the faces of everyone the blackmailer looks at and - through a connection to some kind of grand computer database - provides the vitals on each person, the most important vital being their "pressure point" or blackmail-worthy secret. Sherlock's client wishes that Sherlock would get back from this evil fellow compromising letters he has in his possession.

It's a long ridiculous tale, but by the end we learn that Watson's wife secretly is an assassin who has killed several people including for the CIA, and that Watson doesn't even know her real name. In seeking to keep the blackmailer from divulging this information, which he has on a USB drive, she gets the thumb drive back from him at gun point, and when Sherlock bursts in during the middle of all this, Watson's wife turns and deliberately shoots Sherlock in the chest knowing full well that it is Sherlock Holmes.

Sherlock survives and for some reason (because she dialed an ambulance I believe) he forgives her and all is well. But he's still after the blackmailer. Ultimately the blackmailer promises to show Sherlock his grand database and takes him into a room where the blackmailer sits in a chair and says that his mind is the database - that he sits there memorizing all the dirt he learns about people, and that there is no actual computer database at all.

Now this is stupid for two reasons. First, he had google glass-like computer eyeglasses on for the first part of the show and we saw the computerized information coming up on the screen in front of his eyes - so what is he even talking about? Second, if he had no backup to his information, no documentation, none of it could be used to blackmail anyone, but when confronted with this rather obvious fact he says blithely, "I don't deal in information; I deal in news," meaning he can publish it and ruin someone anyway, which is obviously not true or the tabloids would have ruined everyone by now. So that's rubbish. Thirdly, he had letters - he showed them to Sherlock - that Sherlock's original client in this episode wanted back as they contained proof of something that could be used for blackmail. So the whole ending where all the blackmail info is just in the bad guy's head doesn't make any sense and is incosistent with the first portion of the episode.

Finally, as if a blackmailer without proof (except those letters and his computer glasses which I suppose in the latter part of the show we are supposed to forgot existed in the earlier part of the show) and as if Watson's wife being an assassin who intentionally shoots Sherlock in the chest, aren't bad enough, in the end Sherlock shoots and kills the blackmailer in cold blood to rid the world of the information in his head and free everyone from his potential blackmailing. Yes, Sherlock Holmes is a cold blooded murderer. The man had no gun, no weapon, and made no suggestion that he had any weapon. Sherlock just popped him like a Mafioso.

This is the episode that many times over ruined this series for me. It had gotten quite bad but this was not just jumping the shark; it was jumping a dozen sharks and a killer whale. Sherlock is done.

…

Expand