Network:

HBO

Series Premiere Date:

Apr 6, 2014

Season #:

1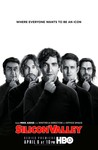 Starring:

Martin Starr, Christopher Evan Welch, Amanda Crew

Summary:

The Mike Judge comedy follows the lives of five software developers (T. J. Miller, Thomas Middleditch, Kumail Nanjiani, Martin Starr, and Zach Woods) who try to develop a new software platform that will change the world, while living together in Silicon Valley.

Genre(s):

Comedy

Creator:

Mike Judge, John Altschuler, Dave Krinsky

Show Type:

In Season

Season 1 premiere date:

Apr 6, 2014

Episode Length:

30

Air Time:

10:00 PM
The deft, resonant satire that helped make Judge's Office Space a cult hit takes on farcical new dimension in Silicon Valley.

The pilot is flat-out brilliant ... It's the best, most wide-appeal show that HBO has had in ages.

As in Office Space, the heart of the show is watching Richard and his friends struggle to make sense of themselves and their purpose. They're good, weird guys you want to hang out with.

Silicon Valley, a new comedy about programmers trying to make it big in a world where unimaginable fortune may be only an app away, is both smart and funny.

With an appealing cast, a relatively fresh setting and smart jokes ("Every party in Silicon Valley ends up like a Hasidic wedding," i.e., the men and women are always separated), Silicon Valley is definitely worth your time investment.

Silicon Valley is a comedy, certainly, and a very funny one, but it doesn't spend all its time reminding you of the fact.

Silicon Valley has some very solid laughs but traffics in stereotypes that feel outdated.
I've already watched the pilot three times and it's still hilarious. I have high hopes, and I think for good reason. It isn't so often that

HBO televises something that isn't a huge hit. A very original and hilarious idea with a great group of characters I have already fallen in love with. Kudos, Mike Judge. Kudos.

…

Expand

This show is everything the abominable Betas wishes it was. The jokes are biting and insightful, and the acting talent is strong. A few of the

jokes fell a little flat, but that's probably just because it's the pilot and the whole thing hasn't quite gelled together yet.

High hopes for how this show will pan out.

…

Expand

From showrunner Mike Judge this new comedy series set, as the name suggests, in Silicon Valley focuses on Richard Hendricks as he attempts to

make a successful business from his revolutionary data compression software.

The show has an Office Space (a great movie by the way) feel about it with its eclectic cast of misfits attempting to work and live together. It is certainly funny in places, with all the characters bringing something to the show, but few episodes hit the consistent highs of the very best comedy series. Sit-coms do generally take a season or so to really find their feet though and this is a promising start, I'll certainly be coming back for season two.

…

Expand

Now the tech industry is being white washed. They are skipping having to learn anything or go to school and just hiring actors to play like

they know. I am a programmer. I am not white.

…

Expand