Network:

USA

Series Premiere Date:

Mar 6, 2014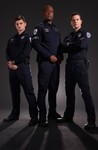 Starring:

Michael Mosley

,

Josh Segarra

,

Bill Nunn

Summary:

The comedy adaptation by Denis Leary and Bob Fisher of the British series of the same name focuses on the lives of three Chicago paramedics: Johnny Farrell (Michael Mosley), his best friend Hank St. Clare (Kevin Daniels), and rookie Brian Czyk (Kevin Bigley).

Genre(s):

Comedy
Season 1 premiere date:

Mar 6, 2014

Episode Length:

30
Please enter your birth date to watch this video:
You are not allowed to view this material at this time.
It's not exactly groundbreaking, but it's fun to watch and slightly addictive.

Mosley, Kevin Daniels, and Kevin Bigley play Chicago EMTs in this promising show, which is more comedically broad than Leary's Rescue Me and much raunchier than your average USA series. [7 Mar 2014, p.61]

The humor's as broad as Lake Michigan, but when Sirens wades in a little deeper, as it occasionally does, it sometimes manages to be even funnier.

The show's younger stars all are personable, if not yet exactly memorable, and all told, their show is an agreeable, mildly amusing time-passer.

The humor is smart-ish and has more bite and suggestive raunch than you'd expect.

The comedy is "Rescue Me"-like, but lighter, with less angst.

Confusing tastelessness and cheap profanity with actual humor, this misfire from executive producer Denis Leary feels like a series of limp outtakes from the more daring Rescue Me.
Brilliant, hilarious, smart, sexy, fast and incredibly self aware. Smart people ARE still making comedies. If you're not watching Sirens,

Brilliant, hilarious, smart, sexy, fast and incredibly self aware. Smart people ARE still making comedies. If you're not watching Sirens, then you're watching something else in its place that's nowhere near as perfect. USA finally comes through with a gem. Cant wait for the next episode!

…

Expand

This show is hilarious and I'm in love with every one of the characters. Its right up my ally with the humor and focus on the characters, and

This show is hilarious and I'm in love with every one of the characters. Its right up my ally with the humor and focus on the characters, and the acting is just so spot-on. And is no one going to talk about how this is the first major show to accurately depict an asexual person? THE FIRST. And how respectfully they treat Stats with her cocktail of mental illnesses? And, oh my god, un-effeminate gay black man. Hank is such a fantastic character. I really hope there will be more than 2 seasons of this show, I love it so much

…

Expand

I really loved this show! I hate when I get into a show and then bam its gone forever. sirens had a really great cast they meshed really well.

I really loved this show! I hate when I get into a show and then bam its gone forever. sirens had a really great cast they meshed really well. I'm depressed now!! thank you USA for making another dumb dumb dumb decision! I love tv, but this part "cancellation's" makes me sick! Bring sirens back!!

…

Expand

Love this show! I wasn't sure I would even give this show a try but I am glad I did. For me, this is laugh-out-loud funny. Great chemistry

Love this show! I wasn't sure I would even give this show a try but I am glad I did. For me, this is laugh-out-loud funny. Great chemistry from the actors. I have gotten other friends to watch and they love it too. Hoping on a 2nd season.

…

Expand

'Sirens' is a new FX comedy that follows EMT's daily lives but much more comedic then expected, It brings up some Awkward and Hilarious

'Sirens' is a new FX comedy that follows EMT's daily lives but much more comedic then expected, It brings up some Awkward and Hilarious situation's I'm sure real EMT's have seen in the field. Things like clearing someone's Browser History for them. Like most comedy's there isn't much of a real story, But that's alright seeing every episode will still make you laugh. Sirens is a good comedy for fans of shows like It's Always Sunny in Philadelphia or The League , FX Seems to know what makes a good TV comedy and are sticking with it. I'm looking forward to season 2.

…

Expand

Good to see that Sirens was renewed for a second season.

I thought the interaction among the characters made the show. Sirens is one ofGood to see that Sirens was renewed for a second season.

I thought the interaction among the characters made the show. Sirens is one of those shows where the cast just seems to enjoy working together.

The writing could be a little tighter, but the humor is good (if sometimes wandering towards a shade of coarseness).

It's a fun show to watch.

…

Expand

As a vehicle for advancing non-traditional social norms, this is mildly funny. Taken without the agenda, it is dumber than the average comedy

As a vehicle for advancing non-traditional social norms, this is mildly funny. Taken without the agenda, it is dumber than the average comedy and far below the average for USA Network.

…

Expand