Network:

FOX

Series Premiere Date:

Jul 20, 2005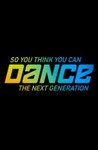 Starring:

Nigel Lythgoe

,

Lauren Sanchez

,

Brian Friedman

Summary:

From FOX, the creators of American Idol and the producers of American Bandstand and The American Music Awards comes So You Think You Can Dance.In its sophomore season, this show is offering the winner a one year contract for Celine Dion's Vegas show, a brand new car and $100K cash.

From FOX, the creators of American Idol and the producers of American Bandstand and The American Music Awards comes So You Think You Can Dance.In its sophomore season, this show is offering the winner a one year contract for Celine Dion's Vegas show, a brand new car and $100K cash. Contestants perform a particular style of dance each week with a partner. The audience votes on their favorite couple leaving the 3 couples with the least votes up for elimination. After each dancer performs a solo of their choice for the judges, one male and one female contestant are up for elimination.

…

Collapse

Genre(s):

Reality

,

Game Show

,

Arts

,

Music
Season 1 premiere date:

Jul 20, 2005

Episode Length:

60
Please enter your birth date to watch this video:
You are not allowed to view this material at this time.
It's always good to see dancing that's dancing and not a montage of repositioned limbs.

Though the voice-over narration could have been more informative, the biggest drawback in the first two episodes was producer Nigel Lythgoe functioning as the Donald Trump of dance by firing dancers right and left. [30 Jul 2005]

As a director, Nigel Lythgoe works the judge's reaction shots, often forgetting wallflowers enjoy watching the dancers, not other wallflowers. [22 Jul 2005]

This show, so far, cannot match 'Dancing With the Stars'; it's dour, lead-footed, mean, downbeat. [22 Jul 2005]

I'm not sure who's watching this dreary dance competition, and less sure why. ... So You Think You Can Dance is Fox's failed attempt to attach American Idol-esque importance to the dance genre. It tries for glittery glamour but is dragged down in procedure. Dancing with the Stars made dancing look fun, which I've always thought was the idea. [17 Aug 2005]

Ineptitude haunted "Dance" from the very beginning, when the host made it sound as though various rounds of competition had already been completed and that what we were watching was a documentary about "So You Think You Can Dance," not the show itself. Camerawork was so poor that dancers occasionally vanished out of the frame, and Lythgoe was featured in so many reaction shots that it was sometimes hard to remember who was onstage. [21 Jul 2005]

Easily takes the crown as the current Worst Show on Television. ... Like 'American Idol,' 'SYTYCD' is self-important, flashy and deeply stupid.
They have taken what has been a generally great Summer viewing experience and ruined it by changing the audition guidelines and judges to the

They have taken what has been a generally great Summer viewing experience and ruined it by changing the audition guidelines and judges to the point that the show is no longer what it was when viewers enjoyed it the most. Complete disaster this season, first episode rendered unwatchable.

…

Expand

Really bad, I mean it is real bad. It is bad because it lacks a lot of judging, I man the judges don't care how their routine is or how there

Really bad, I mean it is real bad. It is bad because it lacks a lot of judging, I man the judges don't care how their routine is or how there skills is at dancing. They just shout to the dancers and say GREAT,BEST ONE,or AMAZING.

…

Expand