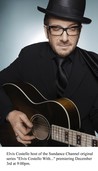 Starring:

Elvis Costello

Summary:

The Sundance channel brings Costello to TV with a new talk show featuring mainly musicians as guests.

Genre(s):

Documentary

,

Music
Creator:

Stephen Warden

Season 1 premiere date:

Dec 3, 2008

Episode Length:

60
There are a few occasions when Clinton, a politician used to rolling right over interviewers to get his message out, finds himself speaking at the same time as Costello, but it's only noticeable because the host is for the most part the most self-effacing of interviewers.

Interspersed with cover songs, Spectacle is an engaging showcase for a curious mind.

All the performances are rough and under-rehearsed, which makes them appealing. Costello also keeps the atmosphere relaxed during the interviews, never seeming too eager to interject his own commentary or jokes.

The best moments in Wednesday night's chat between Elvis Costello and Elton John, which are good enough to recommend the show for fans of both men, serve up small but sparkling musical pleasures.

Costello (who has subbed for David Letterman) makes a fine host--a bit reverential at times, but never as pious as, say, James Lipton can become over at the similarly configured "Inside the Actors Studio."

Alas, the program has little direction and almost no flow.
So much of television aims at that lowest common denominator. While Costello's program is certainly accessible to the masses, it does

So much of television aims at that lowest common denominator. While Costello's program is certainly accessible to the masses, it does open doors to the deeper rooms within the minds of master musicians. I particularly enjoyed the discussion with James Taylor. Some of the critics cited here complain that the show lacks direction or has a meandering feel to it. If you want to watch the Tonight Show or Good Morning America, that is always out there for you. But a show like this, rather than going a mile wide and an inch deep, does take the deeper dive into a topic. That is something that those who are passionate about music , or simply have inquisitive minds, ought to appreciate.

…

Expand

Elvis is a witty interviewer who, like us, is interested in more than just nonsense and self-promotion from his guests.

It is not flawed enough to lower to 9. Mostly because I can't knock a show for not being longer. I love every minute of the show, but

It is not flawed enough to lower to 9. Mostly because I can't knock a show for not being longer. I love every minute of the show, but feel that there is a longer conversation happening that I only get the highlights. It is less like being at the table with Elvis and his guests and more like being in the booth next to him. Sometimes for the sake of time, the conversation shifts abruptly, but it always remains interesting. It may be true that Elvis loves his guests a bit too much, but I he is asking questions that always have interesting answers.

…

Expand

This series is a must see for music lovers. Elvis manages to capture the true essence and genius of every artist he interviews. The

This series is a must see for music lovers. Elvis manages to capture the true essence and genius of every artist he interviews. The performances are amazing. Elvis has a rare ability as a musician to draw out fellow musicians and articulate their influences and the magic that is their art. The intimate connection he allows us to share with these incredibly talented artists is unrivaled in any other forum I have seen. Hopefully we will see many seasons that will open even more singers and songwriters to their appreciative fans.

…

Expand