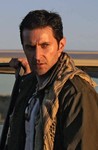 Starring:

Richard Armitage

,

Colin Salmon

,

Andrew Lincoln

Summary:

The adaptation of Chris Ryan's novel Strike Back introduces John Porter (Richard Armitage) who is recruited into Section 20, a branch of MI6, by fellow soldier Hugh Collinson (Andrew Lincoln), seven years after he was dishonorably discharged from the British Special Forces unit.

[Aired 5The adaptation of Chris Ryan's novel Strike Back introduces John Porter (Richard Armitage) who is recruited into Section 20, a branch of MI6, by fellow soldier Hugh Collinson (Andrew Lincoln), seven years after he was dishonorably discharged from the British Special Forces unit.

[Aired 5 May 2010 - 19 May 2010 on Sky One as Chris Ryan's Strike Back]

…

Expand

Genre(s):

Drama

,

Action & Adventure
Season 1 premiere date:

May 5, 2010

Episode Length:

45
Origins is the more psychologically complex show, and feels slightly more realistic, even though Porter escapes certain death on numerous occasions.

While it still oozes testosterone, it has a sharper focus and a sharper message [than the current Strike Back series].

Origins is no worse than average among the class of shows--"24," "The Unit," "MI5"--that mix high-tech intelligence gathering with bloody commando action.
This is a very good series with an excellent performance from Richard Armitage (The Hobbit) and with great support from Andrew Lincoln

This is a very good series with an excellent performance from Richard Armitage (The Hobbit) and with great support from Andrew Lincoln (Walking Dead) and just about every other actor in this show. It's not the same as the Cinemax series but it's definitely its own man and, IMO, better. Thoughtful, intelligent and gripping more like an exciting drama than a mindless shoot 'em up.

…

Expand

I have seen the first two seasons, and this one is very good.

Richard Armitage does a very good job as the main character, the acting isI have seen the first two seasons, and this one is very good.

Richard Armitage does a very good job as the main character, the acting is convincing, there are some great actions scenes, the plot is ok and it is not excessively long.

…

Expand