Network:

Cinemax

Series Premiere Date:

Aug 12, 2011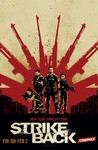 Starring:

Rhashan Stone

,

Amanda Mealing

,

Richard Armitage

Summary:

Cinemax's first foray into a serial television show (coproduced with British Sky Broadcasting) is an action series about an ex-US Special Forces officer (Damien Scott) who joins up with the British military to stop a terrorist group.

[In the United Kingdom, this is the second series andCinemax's first foray into a serial television show (coproduced with British Sky Broadcasting) is an action series about an ex-US Special Forces officer (Damien Scott) who joins up with the British military to stop a terrorist group.

[In the United Kingdom, this is the second series and called Strike Back: Project Dawn]

…

Expand

Genre(s):

Drama

,

Action & Adventure
Season 1 premiere date:

Aug 12, 2011

Episode Length:

60
If something has been missing from your TV screen since "24" went off the air, like an unapologetic, fist-pumping, nonstop action thriller with compelling good guys and loathsome bad guys, Cinemax's new Strike Back needs to be your appointment television for the next 10 weeks.

A surprisingly stylish and addictive new counterterrorism series.

Good action, good characters and, besides, it's the only show in the history of TV where the term, "f-cking pr-ck" is code. I mean, you gotta love that, no?

This series, about an underground British antiterror team that has joined forces with U.S. Special Forces veteran Damien Scott (Sullivan Stapleton), does succeed in wresting plenty of high-level suspense out of these low-aiming scripts--no small miracle.

Strike Back won't make anyone forget "24" or "MI-5" or even "The Unit," but it has its pleasures for the aficionado of guns and flesh in exotic locales.

Strike Back does incorporate a few wrinkles regarding its leads, with hints of a larger plot to guide its 10 episodes. Mostly, though, pretty much everyone is reduced to geopolitical stereotypes--starting with the American cowboy and more cautious (if equally sweaty and buff) Brit.
its unapologetic,balls out and just fun love it. both leads work well together .the locales are great and the supporting cast fit perfectly.

its unapologetic,balls out and just fun love it. both leads work well together .the locales are great and the supporting cast fit perfectly. this show can't help but be great .the writing is smooth and is seamless. just wish they promoted the show in North America more definitely can get lost in and episode

…

Expand

Hip haray Hip hip haray for there will be another season, I Love this stuff great acting good plots and great entertainment Person of Interest

Hip haray Hip hip haray for there will be another season, I Love this stuff great acting good plots and great entertainment Person of Interest was my favorite until Strike Back moved in and I hope there will be a 3rd season Go America and UK .

…

Expand

First season was totally British. I loved that.

I stopped watching at season 2: too much blood, pornography and unexplainable act ofFirst season was totally British. I loved that.

I stopped watching at season 2: too much blood, pornography and unexplainable act of characters. Couldn't enjoy anymore.

…

Expand

I've watched the first 2 episodes and thought they where great. A real adult, action, spy series. If you liked 24, Spooks, The Unit or the

I've watched the first 2 episodes and thought they where great. A real adult, action, spy series. If you liked 24, Spooks, The Unit or the Bourne Movies then this show is for you. Lots of twists and its hard to tell who will survive for the next 5 minutes let alone the episode. Yes its shocker for those that have seen the first series "Strike Back" or read any of the Chris Ryan novels but that just added to the wow factor for me. Really looking forward to the rest of the series.

…

Expand

This is what "the Unit" was supposed to be, but never was. Action, guns, terrorists, no "family crap story" (Ok, just a 4% of that) and it is

This is what "the Unit" was supposed to be, but never was. Action, guns, terrorists, no "family crap story" (Ok, just a 4% of that) and it is credible, people die. Good guys aren't a 100% good and bad guys neither. So, it is extrictly recommended for those that do not like CW kinda shows. YES, it won't make us to forget 24, but who cares? move on. :-)

…

Expand

thoroughly enjoyed season 1 (origions in the us). from season 2 (season 1 in us) it kinda cheapened a fair bit , i blame the hobbit movies for

thoroughly enjoyed season 1 (origions in the us). from season 2 (season 1 in us) it kinda cheapened a fair bit , i blame the hobbit movies for that but im still watching. also why cant we just let australians have australian accents or just use an american actor. its the same if we need an aussie character we usually get an american actor trying to sound like crocodile dundee. always annoys me

…

Expand

I've watched sky's version and i gotta say: this show lost its intelligence and acting got worse. And too much SEX. However, strike back

I've watched sky's version and i gotta say: this show lost its intelligence and acting got worse. And too much SEX. However, strike back continues to provide good action scenes.

…

Expand