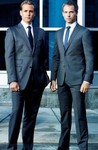 Creator:

Aaron Korsh

Season 2 premiere date:

Jun 14, 2012

Episode Length:

60
Please enter your birth date to watch this video:
You are not allowed to view this material at this time.
Adams and Macht are terrific, with the former loosening up quite considerably this year as Mike....Torres is cool, sexy and commanding as Jessica, and Markle, Hoffman and Rafferty contribute greatly to the energy of the show's core ensemble.

Their white collar cases aren't always riveting but as summer fares goes, hot guys and Manhattan backdrops are a reliably escapist combo. [25 Jun 2012, p.47]

Suits seems perfectly tailored to make its characters all look good, which is simultaneously its most attractive asset and its most discomfiting drawback.
This review contains spoilers, click expand to view.

'Suits' remains one of the most smartest television shows. The characters are worth rooting for, the relationship between Harvey and Mike is the most believable on any TV show, and the writers are doing a great job, as well. It was nice to see the writers pick up right where we left off, using the biggest cliffhanger from last season to help propel the story forward. I'll definitely be tuning in next week.

…

Expand

This is one of my favorite summer shows! Season 2 is better than season 1 as the characters, particularly Harvey Specter, is more

This is one of my favorite summer shows! Season 2 is better than season 1 as the characters, particularly Harvey Specter, is more approachable as he isn't always right and perfect. It has well-developed characters, and interesting plot twists. It is both dramatic and comedic at times. The last episode of this season is the best!

…

Expand

this is the greatest show on tv right now, better than GAME OF THRONES. YES. theyve really stepped up the writing this season. if you dont

this is the greatest show on tv right now, better than GAME OF THRONES. YES. theyve really stepped up the writing this season. if you dont like this, you dont like kings basketball!

…

Collapse

I would say that the season delved more on the personalities and the interrelationships of the characters. Seeing them grow, watch make bold

I would say that the season delved more on the personalities and the interrelationships of the characters. Seeing them grow, watch make bold decisions and fight their ways was very, very appealing emotionally. However, i have a big concern that the plot will go somewhere we didn't expect or somewhere we wouldn't want it to be.

…

Expand

Eventhough legal issues might not be your thing, this is a great show. The way the story evolves and the cleverness... it just gets you. And

Eventhough legal issues might not be your thing, this is a great show. The way the story evolves and the cleverness... it just gets you. And the charachters are both funny aswell as convincingly dramatic.

…

Expand

Why keep trying?

Better yet, is anybody on the production side still trying? (Seasons 2 and 3 have revealed more struggling actors than onWhy keep trying?

Better yet, is anybody on the production side still trying? (Seasons 2 and 3 have revealed more struggling actors than on a Law & Order SVU extras call!) Could there possibly be a secret race to a desperate finish line that we, the audience are simply unaware of perhaps a finish line also shared by "Scandal" for the worst "sort-of-based-in-law drama that-had-a-really-strong-pilot-and-first-season but nothing since?" Bummer! Mike Ross (somehow) became a real, live lawyer and, needless to say, the charm/premise of "Suits" flew straight out the door, along with any stretched credibility.

Ah, TV. The line between "nighttime" and "daytime" drama is finer than you might think...

All nit-picking and pettiness aside, it's like there were EXACTLY 23 ideas in the room when the first season was conceptualized, followed by a giant "whatever" after renewal. L-A-Z-Y. Enough said.

…

Expand