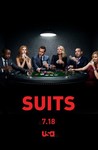 Creator:

Aaron Korsh

Season 3 premiere date:

Jul 16, 2013

Episode Length:

60
Please enter your birth date to watch this video:
You are not allowed to view this material at this time.
The result finds the actors inhabiting their characters' backstabbing natures as comfortably as their outfits. [19 Jul 2013, p.79]

Two tense, tricky, fine performances [22 Jul 2013]

Who cares who runs the law firm? The petty office wars are where it's at.

Suits's semi-smart, buoyant originality has been largely replaced with predictable dialogue and broadly painted personality types.
The 3rd starts with tension between Harvey, Jessica and Mike..!!
Mike wants Harvey's trust back and Harvey wants to take down Jessica...The 3rd starts with tension between Harvey, Jessica and Mike..!!
Mike wants Harvey's trust back and Harvey wants to take down Jessica...
They Just raised the bar...

…

Expand

season three starts well with a lot of tension and really brings some of the background characters into the forefront. The only problem is

season three starts well with a lot of tension and really brings some of the background characters into the forefront. The only problem is trying to fit all these characters in takes 2 major themes from the show that made it so captivating in the first place, the dynamic relationship between Mike and Harvey plus Mike's amazing ability of memory and problem solving which gave the show an angle that made it unique and worth watching.

…

Expand

Suits may have a lot of characters that are hard to remember and a complicated plot, but it's still one of the greatest series on TV in 2013.

Suits may have a lot of characters that are hard to remember and a complicated plot, but it's still one of the greatest series on TV in 2013. Very underrated.

…

Expand

A dip in the quality again!
After a good second season,S-3 disappoints.
The writing is BAD and is somewhat compensated by the performancesA dip in the quality again!
After a good second season,S-3 disappoints.
The writing is BAD and is somewhat compensated by the performances of a reliable cast.
Lacking in smartness,it's become predictable !

…

Expand

series 3 keeps suits as fast a moving as an office drama could hope 2 be be, if it has a fault sometimes the retorts are parried with

series 3 keeps suits as fast a moving as an office drama could hope 2 be be, if it has a fault sometimes the retorts are parried with almost a artificial intensity and trying to balance the satirical with the political harshness of an backstabbing office fails, ALMOST. however enjoyable the suits is with its banter and all round sharpness it is what it is, enjoyable but great TV unfortunately not.

…

Expand

The overarching plot takes several twists and turns but ultimately fails to be compelling. The B-plot of the Mike/Rachel interactions were

The overarching plot takes several twists and turns but ultimately fails to be compelling. The B-plot of the Mike/Rachel interactions were actually quite interesting during Seasons 1 and 2, but their interactions in Season 3 seem to drag. The show is losing its entertainment value, and I don't know how it can recover. The main premise that spawned the show can't develop any further without destroying the show it created. In other words, I think this show is stuck in a horrible holding pattern, with little to offer the viewer besides a few attractive people and the occasional funny moment.

…

Expand

There were three things that I loved about the show in the first season, the tension of whether anyone would find out about Mike not going to

There were three things that I loved about the show in the first season, the tension of whether anyone would find out about Mike not going to Harvard, Mike's ability to solve problems with his amazing memory, and the dynamic between between Harvey and Mike. Now two of those are gone, the secret is out, his memory is long forgotten (by the writers), and the dynamic between Harvey and Mike might return, but then again it might not.

The show seems to only be about office politics and office romance. Sorry to say, I have lost all interest in the show, it has become a chore to watch.

…

Expand