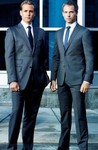 Creator:

Aaron Korsh

Season 1 premiere date:

Jun 23, 2011

Episode Length:

60
Please enter your birth date to watch this video:
You are not allowed to view this material at this time.
These stylish suits aren't empty, by any means. But we'll have to see if USA is truly willing to let its heroes' souls get emotionally naked.

The fun comes in watching the uncynical Adams learn to undercut everyone else's cunning. [27 Jun 2011, p.46]

No one expects "The Good Wife," but if the show is aiming for balance, it needs to step up its court game.

On a scale of TV series that shoot for the high end of mediocre, USA's Suits fares far better than the recently introduced TNT legal drama "Franklin & Bash." The guys in Suits are more likable, and the legal stories a little more grounded in reality.

It hasn't yet proven that it can find consistently satisfying things to do with the legal drama (Harvey's "closing" scenes are fun though I can see them becoming a bit of a crutch).

Though the series begins amusingly enough, it quickly descends into cloying buddy escapade, in which the full-of-heart slacker seeks to teach his careerist boss how to care, and the careerist boss teaches his moldable young thing about cunning and diligence and clothes that cost a mortgage payment.

You might be willing to overlook the show's structural flaws if the cases themselves were wildly compelling, but unfortunately, they are of a piece with their misguided series.
I really think it's witty and smart. I wish more shows were like this. The thursday night is also the perfect time slot for a show like this.

I really think it's witty and smart. I wish more shows were like this. The thursday night is also the perfect time slot for a show like this. And the music is actually pretty good. WATCH IT PEOPLE!

…

Expand

Score 60? 8.7?Common people you must be out your mind! Who doesn't give this show a score of 10 is simply envious, because he will never wear

Score 60? 8.7?Common people you must be out your mind! Who doesn't give this show a score of 10 is simply envious, because he will never wear a suit himself.

…

Expand

The show is brilliant. The lead characters provide a dynamic that leads to the same witty banter that makes White Collar great. The storys are

The show is brilliant. The lead characters provide a dynamic that leads to the same witty banter that makes White Collar great. The storys are interesting and the dialogue is well scripted. I would definitely recommend this to anyone.

…

Expand

When my girlfriend played me an episode of season 2 on her laptop I initially thought "Oh not another Law show!" but I really like this one.

When my girlfriend played me an episode of season 2 on her laptop I initially thought "Oh not another Law show!" but I really like this one. Have finished all season 1 now, it's easy entertainment with a great cast and writers. Not much keeps me coming back but I'm eager for season 2 now.

…

Expand

Suits dreht sich um Harvey und Mike welche beide Anwälte sind. Mike jedoch hat eine etwas andere Ausbildung zum Anwalt erfahren als viele

Suits dreht sich um Harvey und Mike welche beide Anwälte sind. Mike jedoch hat eine etwas andere Ausbildung zum Anwalt erfahren als viele andere. Harvey welcher sein Mentor ist, ist ganz anders als Mike, er gewinnt jeden Fall und jeder hat Respekt vor ihm. Dies alles ist mit lockerer gut ausgewählter Musik untermalt die die Stimmung passend widerspiegelt. Suits ist dabei alles andere als eine sterile Anwaltserie, sondern eine Art Budymovie a la Bud Spencer und Terence Hill in Serienform. Jedoch sind die beiden nicht wirklich Freunde sondern Arbeitskollegen, dodch man sieht die Entwicklung die die beiden während der Staffel durchmachen und was der eine für den anderen bedeutet.

…

Expand

Although the show has a bit of a white collar feel to it, it feels fresh and original unlike other legal shows on tv. The characters are

Although the show has a bit of a white collar feel to it, it feels fresh and original unlike other legal shows on tv. The characters are somewhat cliche and the case considered in the premiere was not particularly interesting. The dialogue is however sharp and witty which makes the show thoroughly enjoyable

…

Expand

Awful acting however the script is not too bad. The downside it feels like a formula to make a quick slick tv show and falls short. It left me

Awful acting however the script is not too bad. The downside it feels like a formula to make a quick slick tv show and falls short. It left me feeling cold. No episode stands up by its self that I have. highly recommend avoiding unless you start from the very first episode

…

Expand