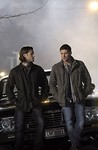 Summary:

Supernatural stars Jensen Ackles and Jared Padalecki as Dean and Sam Winchester, two brothers who travel the country looking for their missing father and battling evil spirits along the way.

Sam Winchester is a college student bound for law school, determined to escape his family's past - unlike his older brother, Dean. Ever since they were little their father has been consumed with an obsession to find the evil forces that murdered his beloved wife, in result recruiting and training his two young sons to help him in revenge. They have grown up as hunters of the supernatural. Sam escaped under the premise of going to college, and now has a happy life with his girlfriend, Jessica, and a promising future career. Dean, however, stayed behind with his father to join him in his "hunting".

Dean goes to Sam for help when their father goes missing. Now Sam must join his brother to find him. His one weekend trip to search for the missing John Winchester becomes an ongoing quest after a horrible tragedy ruins any thought of a happy life for Sam.

The two brothers, bound by tragedy and blood to their mission, travel across the country encountering terrifying and dangerous forces most believe to be nothing but superstition and folklore, such as the Lady in White, the Indian beast known as the Wendigo, Phantom Travelers who cause plane crashes, Bloody Mary, vampires, demons and many more.

From Warner Bros. Television Production Inc. in association with Wonderland Sound and Vision, with executive producers McG (Charlie's Angels, The O.C.), writer/executive producer Eric Kripke (Boogeyman) and Robert Singer (Midnight Caller).

…

Expand

Genre(s):

Drama

,

Action & Adventure

,

Fantasy

,

Horror

,

Suspense

Show Type:

Between Seasons

Season 4 premiere date:

Sep 18, 2008

Episode Length:

60

Air Time:

09:00 PM
This review contains spoilers, click expand to view.

Season 4 is my fav due to the introduction of angels, and Castiel, in particular. Cas is my fav character and the season just got much better since. Now I miss episodes without Cas. Cant wait for season 8 to come out :)

…

Expand

Following on from the unexpected events of the previous season, season four of Supernatural continues to go from strength to strength.

Building up to the end of the shows original arc (planned to be completed in season five) the creators have yet again been able to combine excellent development of the characters and mythology with some fantastic stand alone episodes.
Never afraid to take risks the writers are able to become self referential without ruining the atmosphere of the show and the two leads are as watchable as ever. Just make sure to also order season five as you will want to see the conclusion to this story.

…

Expand

My second favorite season of the show. Ugh, I just love how the introduction of the angels especially our beloved Castiel changed the mood of

the show!

…

Expand

О, да! Больше демонов! Ведь серии с демонами такие интересные! Хочется пересматривать их раз за разом! "плевок"