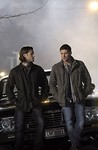 Starring:

Jensen Ackles, Jared Padalecki, Misha Collins

Summary:

Two brothers travel the country looking for their missing father and battle evil spirits along the way, in stories inspired by urban legends and other folklore.

Genre(s):

Drama

,

Action & Adventure

,

Fantasy

,

Horror

,

Suspense
Creator:

Eric Kripke

Show Type:

In Season

Season 1 premiere date:

Sep 13, 2005

Episode Length:

60

Air Time:

09:00 PM
The series' grim tone and overall look of a grimy world in perpetual need of dusting or wiping is a long way from Buffy the Vampire Slayer and closer to Japanese movies like The Grudge. [12 Sep 2005, p.45]

"Supernatural" is unlike anything else out there and should build a following among viewers who appreciate its combination of spooky mythology and mystery adventure.

Padalecki and Ackles are hunky, funny and a joy to watch.

It is a well-made little show of horrors that's likely to scare and thrill its target audience.

The stars are appealing WB veterans, but it is hard to believe that subsequent episodes will carry the same edge as the premiere. "Supernatural" is not "The Sixth Sense," it's "Ghostbusters' Creek."

A perfectly serviceable if not particularly inspired bumper.

These brothers are like most WB stars and starlets, pretty faces with negligible theatrical skills.
this show is the best show ever!!!!!!!!!!!!!!! dean and sam.... u r soooo hott!!!

This is the show I look forward to the most every week. If you've stayed away because you've seen stills of the leads and have

figured it's just another CW "Cute Boy Show" you were wrong. Supernatural is one of the most consistently well-written, acted, and directed shows on television. The effects are awesome, the scares are effective, the humour is INTENTIONAL, and the relationship between Sam and Dean is some of the most honest and real work that I've ever seen in any medium, television or otherwise. If you never gave Supernatural a chance now is the time. Supposedly the creator plans to end it at the end of his "Five Year Plan".

…

Expand

best there is, best there was.. best there ever will be

Supernatural is the best written and acted show on TV today. IMO it has surpassed even Lost and 24 in the past few seasons. From the

beginning it has been one long crescendo leading up to the 5th and final season which has been amazing so far half way through. I will be getting the final Bluray set when all the seasons are available in a pack! Great Show!

…

Expand

Supernatural is an excellent show that has an incredible progression with character development. Sam and Dean are believably "real" and you

feel involved with their adventures and conflicts. Brilliant writing, an excellent depiction of the characters, and loads of great action make this show a true winner.

…

Expand

The show has no "scare factor" to it. Its reputation isn't living it up very well as that the acting seems a little melodramatic. The

plotline seems a little boring as well as the premise seems a bit useful to a few ends.

…

Expand