Network:

Starz

Series Premiere Date:

Oct 4, 2014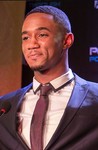 Starring:

Erica Ash

,

Tichina Arnold

,

RonReaco Lee

Summary:

Cam Calloway (Jessie T. Usher) signs a multi-million dollar contract with a professional basketball team and moves with his cousin Reggie Vaughn (RonReaco Lee) to Atlanta where they face the challenges of fame and opportunistic family members in this comedy.

Genre(s):

Comedy

,

Sports
Creator:

Mike O'Malley

Season 1 premiere date:

Oct 4, 2014

Episode Length:

30
With [Mike O'Malley's] fluid scripts, these sharp actors hit not just three-pointers but also free throws.

Although a TV series about the trappings of sudden fame could be cliché, Mr. O'Malley roots the show in specific, believable characters that make Survivor's Remorse one of the fall's stand-out new shows.

The show initially relies too heavily on plots in which Cam's career is imperiled by the family's behavior, plots that come off as contrivances to give the family deeper roots in Cam's world. But Remorse finds its sea legs once it realizes Cam's family can afford to stand on its own, whether they realize it or not.

This disarming winner has you instantly rooting for basketball prodigy Cam Calloway (Jessie T. Usher).

Survivor's Remorse is mordant and very funny, but there is a redeeming sweetness beneath the satire and b-ball swagger.

It's genuinely hilarious and smartly written (Mike O'Malley), its observations are keen, its atmosphere warm but with a saving flinty undertone. Add to that a preening vulgarity that shows touching evidence of restraint.

Usher brings a sweetness to Cam that cuts through some of the cynicism around him. His character's far from perfect, but there are times when he seems a little too good to be true, or at least a little too good to be truly funny.
Love it. It is refreshingly funny and real. The family members are brutally honest with each other take care of one another. One of the

Love it. It is refreshingly funny and real. The family members are brutally honest with each other take care of one another. One of the reasons it really works is that Cam is a great guy - not a stereotypical jerk professional athlete. You become invested in these characters. I'm just bummed that there were only 6 episodes. Check it out.

…

Expand