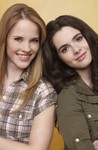 Starring:

Vanessa Marano

,

Lea Thompson

,

Constance Marie

Summary:

Daphne Vasquez and Bay Kinnish discover they were switched at birth, and soon circumstances bring the two families under one roof.

Genre(s):

Drama
Creator:

Lizzy Weiss

Season 1 premiere date:

Jun 6, 2011

Episode Length:

60
Please enter your birth date to watch this video:
You are not allowed to view this material at this time.
Katie Leclerc is instantly, sunnily appealing as Daphne....Vanessa Marano is fine as the other misplaced kid, except she's a sulker and sort of a drag. [13 Jun 2011, p.48]

Despite all the implausibilities and irritations, Switched manages to make a positive impression, thanks to some sturdy writing and solid performances that adequately sell the premise.

ABC Family has another bright and bouncy addition to the family--one that with proper care and feeding looks born to run for a good long time.

If the situation of Switched at Birth often seems surreal and at times contrived (seriously, no one is going to even call a lawyer? Or a therapist? Or the hospital?), the performances keep the story grounded as yet another alternative American family blooms under the California sun.
This show is actually good!!! It gets me mad though how bay is with emmet, i think daphne and emmet would be better together!!! Anyways cant

This show is actually good!!! It gets me mad though how bay is with emmet, i think daphne and emmet would be better together!!! Anyways cant wait til it comes back!!!

…

Expand

An amazing show! Definitely recommend to anyone. I am so glad I found out about it. It is seriously my favorite show on television. The actors

An amazing show! Definitely recommend to anyone. I am so glad I found out about it. It is seriously my favorite show on television. The actors on this show are phenomenal and the way that this show incorporates actual American Sign Language it incredible. It has inspired me and surely many other teens to learn and get connected to the Deaf community. Amazing actors, amazing acting, amazing writing.. what more could you want?

…

Expand

Well written, interesting characters, infectious actors, educational, life-like, and even edgy! The first episode hooked me and I've been

Well written, interesting characters, infectious actors, educational, life-like, and even edgy! The first episode hooked me and I've been reeling in ever since. Sometimes I find specific scenarios, or reactions completely nonsensical, but I'm quick to remember that they are still possible. I'm really looking forward to the latest season. Thanks ABC for making a quality show.

…

Expand

At the moment, "Switched at Birth" looks like a cross between a daytime soap opera and an Afterschool Special--er, make that FIVE Afterschool

At the moment, "Switched at Birth" looks like a cross between a daytime soap opera and an Afterschool Special--er, make that FIVE Afterschool Specials. Yes, the "oops, wrong baby" plot predates daytime television, as a joke about Mark Twain acidly reminds us, but "Switched" uses the soap opera version: a bombshell from the blue, unmotivated and unsuspected. But that's a minor problem compared to the relentless sermonizing. The pilot preaches the gospel of: (1) adoptive parents versus birth parents; (2) deafness as culture, rather than disability; (3) the danger of class-based stereotypes in self-expression, self-destruction, and self-adornment, among other things. Just to be clear: I'm not an art-for-art's-sake aesthete; I've played on Team Horace since a seventh-grade production of "El Mago de Oz" brought down the "English Only" signs in my middle school cafeteria. Moreover, I believe that parenting, deaf culture, and class bias are important issues--important enough to be treated with subtlety. That said, I think this series has GREAT potential. The cast is strong and varied, including accomplished film and theatre actors (D.W. Moffett), proven TV stars (Lea Thompson), and dazzling newcomers (Katie Leclerc). Particularly fine are the show's three deaf actors (Leclerc, Sean Berdy, and Oscar-winner Marlee Matlin), who have such talent and charisma that I can almost understand ABC's compulsion to jump on their coat tails and ride around signing "We were here first!" More pluses: some of the writing is wonderful--smart and disciplined, willing to pass up an easy laugh to help build character. Pulling in the other direction, however, is a drive to schematize, to set the moneyed, athletic, diplomatic strawberry-blond charmers apart from the destitute, artistic, cynical brunette rebels. It's ok in the pilot, which introduces a dozen or more characters, but the impulse must fade, along with our recollection of the show's improbable premise, if the show is to realize its immense promise. "Switched at Birth" could easily become great--one of those rare shows with near-universal appeal--but it could just as easily become unwatchable, a turgid morality play in which Sir Fix-a-Lot and the Knights Exemplar battle Baron von Bias for the soul of Everyteen

…

Expand

To be honest, I didn't have very high expectations for this show when I first decided to give it a shot. But I was pleasantly surprised by how

To be honest, I didn't have very high expectations for this show when I first decided to give it a shot. But I was pleasantly surprised by how much I have enjoyed it thus far. It's not an amazing, in-depth look at the deaf community, nor is it particularly believable as a family drama. Everything is simplified. The acting has a pretty severe mixture of terrible and incredible (the girl who acts as Daphne is superb, while the people who act as John and Kathryn feel like they are constantly over-acting). The plot is simple, and aside from the fact that a large portion of it is focused on the deaf community, the storyline is actually not really very unique at all. But despite all this, I still seem to really be enjoying myself while watching it, and find it to be a great show to watch if I just want to relax and ease myself out of a busy day. I'm not usually a fan of ABC Family shows, but this one I'll probably keep up with as long as new episodes keep coming my way.

…

Expand

I'll admit it...this show is a guilty pleasure for me. If any of my friends saw it on my DVR, I would deny, deny, deny that I put it there.

I'll admit it...this show is a guilty pleasure for me. If any of my friends saw it on my DVR, I would deny, deny, deny that I put it there. But the show is actually good...the storyline is a little implausible, until you realize that it has happened in real life. I still can't see how a Latina mother would think her daughter would come out red haired and fair. I'm sure it's to show just how different these families are. It's also a good example of the nature vs. nurture concept, which I think the show will explore in later episodes. And don't get me started on Vanessa Marano...that girl is gorgeous. And Lea Thompson! I'm glad she's back on TV!

…

Expand

Switched at Birth is one of the worst shows to come out of ABC Family, bettered even by Pretty Little Liars. The acting is sub-par, the

Switched at Birth is one of the worst shows to come out of ABC Family, bettered even by Pretty Little Liars. The acting is sub-par, the writing is even worse, and the deaf girl storyline, along with the whole i lost my baby idea isn't very captivating. the idea that the parents are suddenly ok with their daughter not being their daughter is too unlikely for my taste.
Watch at your own risk

…

Collapse