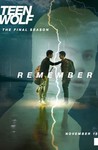 Starring:

Shelley Hennig

,

Tyler Hoechlin

,

Tyler Posey

Summary:

MTV "remakes" the 1985 movie starring Michal J. Foxx into a TV series with Tyler Posey as Scott McCall.

Genre(s):

Drama

,

Action & Adventure

,

Horror
Season 1 premiere date:

Jun 5, 2011

Episode Length:

60
Please enter your birth date to watch this video:
You are not allowed to view this material at this time.
Not only is it really well thought out, but the good-looking kids in the show can actually act.

The only disappointment is the werewolf makeup, minimal enough that Posey could still blend in at the mall. [13 Jun 2011, p.48]

It is billed as scarier and sexier than the lighthearted film series. It is that, but still plays it safer than, say, "Vampire Diaries" or the "Twilight" films.

The series generally gets the mood right but proves miserly in the details, from fleeting glimpses of the werewolf to Scott's eventual moon dance, which leaves him looking too much like Eddie Munster.

This is a pretty by-the-numbers blend of teen angst and horror.

You might watch Teen Wolf and find a diverting if familiar, brooding teen drama, and that's fine. I found myself watching it and thinking: I want my MTV.
Excellent show. The acting is good and the plot is interesting. A good show to watch in the summer. This is one of the few shows I have been

Excellent show. The acting is good and the plot is interesting. A good show to watch in the summer. This is one of the few shows I have been watching right now and I am surprised that it is a good quality suspenseful show.

…

Expand

OMG!!!! don't get me started on Teen Wolf. It is the best show in the history of the world. A boy changed into a wolf and having to deal with

OMG!!!! don't get me started on Teen Wolf. It is the best show in the history of the world. A boy changed into a wolf and having to deal with the changes. He gets a girlfriend and then realizes her father is a hunter. I love Teen Wolf. When ever it's on i make a sign and hold it up. Teen Wolf is just amazing point covered.

…

Expand

An amazing show, with a wonderful story plot! Even with it's exciting and suspenseful creatures, the show still holds a sense of reality.

An amazing show, with a wonderful story plot! Even with it's exciting and suspenseful creatures, the show still holds a sense of reality. Mixing high school, relationships, and well it's called "Teen Wolf", comes to the conclusion of a well thought out show with awesome characters.

…

Expand

Great show + good acting + one hell of a cast = TEEN WOLF. One of the best shows this year, and I would really love if the first season would

Great show + good acting + one hell of a cast = TEEN WOLF. One of the best shows this year, and I would really love if the first season would end up with 20 episodes.

…

Expand

I really love this show! It is really exciting and you never know what to expect. There are really nice love interests. However, the first few

I really love this show! It is really exciting and you never know what to expect. There are really nice love interests. However, the first few episodes are not very excited, but after passing you will be hooked to the show. Every season always has something new to show and the characters are easy to fall in love with.

…

Expand

One of the few shows which can keep me excited, happy, laughing, scared and crying at once. Even though people think its a ''girly'' show,

One of the few shows which can keep me excited, happy, laughing, scared and crying at once. Even though people think its a ''girly'' show, it's isn't.. I'm a boy at the age of 15 loving the show, it got bromance, funny scenes and a lot of action. Most of all I love the cast, they aren't just good looking, but great actors as well.

…

Expand

I don't like it

I don't like it nocneoncsocndicnsicndkknckendocndkcndkcndkcnrknvrkcndkncrkncrkcnroncroncrocmrkcnrovnrocfnoencrocjdocmeocmeocjeojceocmeomceocneocnoecneocneocnoecn

…

Expand