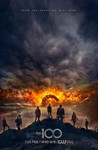 Starring:

Paige Turco

,

Paige Turco

,

Paige Turco

Summary:

Based on the Alloy books by Kass Morgan, 97 years after a nuclear war destroyed Earth and forced survivors to flee to space stations, a secret project by leaders of the group sends 100 juvenile prisoners back to Earth to see if it is viable once again.

Genre(s):

Drama

,

Action & Adventure

,

Science Fiction
Creator:

Jason Rothenberg

Season 1 premiere date:

Mar 19, 2014

Episode Length:

60
Please enter your birth date to watch this video:
You are not allowed to view this material at this time.
[A] strongly acted thriller, which seems to add another intense dimension weekly.

What is surprising is that the series, an adaptation of the Kass Morgan novel, is well conceived, cleverly plotted, and quite exciting.

Rothenberg and company are sneaking in a surprisingly sophisticated look at a world filled with want.

Yes, it's a CW series, but one that poses enough lifeboat-ethics issues to keep a freshman philosophy class busy for months.

It makes for lively drama, with sharply defined conflicts and characters who aren't always all good or all evil. Naturally, there are also interludes for romance and mean girls and obnoxious hot-body guys.

If you don't think too much about details and leaps in logic, The 100 moves forward swiftly. But the characters seem stuck in place, with one foot placed firmly in central casting. They're bland, no ish about it.

It's another faulty futuristic fantasy drama patched together with used parts and overused designs.
This show is another amazing and intriguing apocalyptic show that has caught my attention. I was sceptical at first as I am not a huge fan of

This show is another amazing and intriguing apocalyptic show that has caught my attention. I was sceptical at first as I am not a huge fan of the CW's channel however I realised that this is an exception to that thought. I have so far really enjoyed watching it and am hooked. If you like The Walking Dead, Revolution, or Lost, then you will love this show! Some people on here give silly reviews for shows... don't buy into their lies! If you like apocalytic, intense, thrilling, quality dramas, this is your show. It has a nuclear and isolated feel to it and it has yet to disappoint me. If you like the show too, please spread the word as much as possible, the show can't survive without support and good ratings so encourage those around you!

…

Expand

I wouldn't pay much attention to the negative reviews on here. If you want to watch a show that resembles The Hunger Games and The Divergent

I wouldn't pay much attention to the negative reviews on here. If you want to watch a show that resembles The Hunger Games and The Divergent movies, then watch The 100. It won't disappoint. When the show first aired on television, I wasn't interested in it because of the name of the show. But then I gave it a shot when I came across it on Netflix when season 2 ended on tv. I watched seasons 1 and 2 in one day! I couldn't stop watching it. The brilliant directors of the 100 reeled me in, and I was hooked. The 100 is so smart and clever in maneuvering the most hardest decisions a character has to make into the most suspenseful moments i've ever seen in a tv show. Not to mention, the story is very well written and very action packed. If you like action, suspense, some comedy, and romance--WATCH THIS SHOW. I think it's way better than most of the other cw shows.

…

Expand

another great scifi series. reminds me of the hunger games but is different. the story is good so far showing how the group of teens called

another great scifi series. reminds me of the hunger games but is different. the story is good so far showing how the group of teens called the 100 are sent to earth to see if its inhabitable after 97 years of it being "destroyed". though the world is far from safe as mutated creatures and other beings are inhabiting the world now. Its a show worth watching if you like scifi and the hunger games movies. Some may call it a ripoff but it really isn't and from the look of things it only seems like it will get better and darker.

…

Expand

Nothing anybody says or does makes any sense. The "civilizations" portrayed in this show wouldn't last five minutes if any of the characters

Nothing anybody says or does makes any sense. The "civilizations" portrayed in this show wouldn't last five minutes if any of the characters were smart (or even sane). Leaders are all incompetent, sociopathic crackpots.

Interesting premise. Production value is fantastic, acting is mostly alright, but the writing is utter trash. Treat it like a comedy and you're good to go. Quite enjoyable.

Give it a go. If you hate it, no big deal. If you like the spectacle of a good warehouse fire or a train wreck, The 100 might be for you.

…

Expand

While 'The 100' offers some taut tense moments and an intriguing science fiction premise, it tumbles right into unavoidable young adult

While 'The 100' offers some taut tense moments and an intriguing science fiction premise, it tumbles right into unavoidable young adult trappings with cheesy dialogue, forced love triangles and plot clichés.

…

Expand

Extremely predictable with an awful story line. It is filled with plot holes and extremely loose logic. For example, how do you break your leg

Extremely predictable with an awful story line. It is filled with plot holes and extremely loose logic. For example, how do you break your leg with the bone popping out and begin walking again after 12 hours? No, that just does not happen. And the lust in this show is ridiculous. Lets just say if one of the teen girls meets another guy, they will 100% get it on and "love" each other on first sight.

…

Expand

Let's talk about the "science" of this show, or more the lack thereof. The show makers completely ignore so much of what would happen after a

Let's talk about the "science" of this show, or more the lack thereof. The show makers completely ignore so much of what would happen after a nuclear war, such as nuclear winter, extreme global climate chang, or even a changing ecosystem. They were like, "BOMBS MAKE THINGS GLOW IN THE DARK AND GROW TWO HEADS!" Then there is the space-station, where the characters have limited resources where things like cables, metal, and square footage are extremely valuable, but all the sets look like something from star trek with some grime painted on and loose cables hanging around.

Next, let's talk the script, my gods it's bad. it's like someone put" the hunger games" and "lord of the flies" into a woodchipper and taped togeather what was spat out. The dialogue is sub-par, the plot is full to the brim with cliches, and to top it all off they named one of the bad guys Cain! For crying out loud how more on the nose can you get with a name?

Then there is the acting, wow... I know finding good teen actors can be hard but this feels more like a high school production than something made for TV. Everyone's line delivery is stiff or overdone, I believe a dog's emotional performance more than the actors, and even the adult actors are lacking.

All and all stay away from this show, unless you want something to rip into with your friends MST3K style.

…

Expand