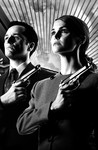 Summary:

Elizabeth (Keri Russell) and Philip Jennings (Matthew Rhys) are KGB agents posing as married Americans just outside of Washington D.C. during the 1980s.

Genre(s):

Drama
Show Type:

In Season

Season 1 premiere date:

Jan 30, 2013

Episode Length:

60

Air Time:

10:00 PM
Based on the admittedly small sample size of two episodes, The Americans feels like it could very comfortably slot in with the upper tier of FX dramas. That's about as good as it gets.

The Americans unfolds a thoroughly seductive tale of sleeper KGB agents.

The Americans is delightfully cunning, exactly the quality, along with fight scenes and ridiculous disguises, one desires in a spy show.

By episode 2, though, after the crammed (and super-sized) premiere, [creator] Weisberg reveals a sure sense of detail that bodes well for the future of the series.

[An] exciting but frustrating spy thriller from former CIA employee and writer-executive producer Joe Weisberg, skillfully captures the anxiety of the age.

The Americans at the moment seems to fall uneasily between the methodical and the campy.
Great pilot! To begin, what's not to like about a spy thriller set in the 80's with a huge twist. It actually had me, a patriotic military

member, routing for the Ruskies. The character relationships are off to a great start and will no doubt become more in depth as well as a huge part of the show. I can't wait for the next episode! I still don't know if I should be routing for the FBI or the sleeper agents!

…

Expand

Retro, cool and cliche "the Americans" is a classic spy drama that takes place during the golden age of espionage. At the height of the Cold

War with micro films and radios, a couple balances the trials and tribulations of relationship and family with the shady underworld of information gathering under the watchful eye of the motherland and the FBI. The tension is tangible the action is calculated and the sex is close up and personal. I can't get enough.

…

Expand

One of the best shows ever produced by american television. It has the right pace and stays within the realms of plausibility, characters look

like any other flawed human being, with their own dramas and inner conflicts. The show doesn't try to portrait anyone as the "bad" guy, its just a bunch of people tied into a messed world trying to do their best to protect what they believe is right.

People seem to criticize this show for being slow paced, yes it is slow paced, but that is the goal, do we need another completely unbelievable and ridiculous show with the usual cliche bad commies and the strong patriotic american hero?

It's refreshing to see american television evolving and producing good shows that actually have a plot and believable characters.

…

Expand

Ok... To reiterate a previous post "This is without doubt my most favorite show just now. Its brilliant. I cant stand waiting week by week,

so I'm going to wait until the season end and watch
the remainder back on back."

So... Just watched them all and yeah, just excellent. There has been some comparisons with
Homeland, but this? Well, I find Homeland to be a sort of high end commercial great production but
ultimately slightly oily, too full of its message, and even cheesy at times. This has none of that, as you actually care about the protagonists, our anti-heroes, who are (or were) after all, the enemy.

Even the poison Granny, who fell in love with her current section boss 40 years earlier on a 1942 battlefield has pathos.

For my taste this just works fine on so many levels and I cant wait until next January for season
two.

…

Expand

I've started watching this show somewhat by chance, reading some reviews on Metacritic.
Well, I really get enthusiastic for doing it! I

don't want to speak about the storyline because, you know, it'll take too much time; but I just want to give you a tip: watch it and you won't regret it!

…

Expand
Published:

December 11, 2013

We reveal the 10 best-reviewed first-year TV series that debuted this year. Plus, get a list of the top TV movies, miniseries, and specials, and rankings of all new shows by network.