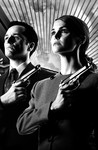 Starring:

Keri Russell, Susan Misner, Matthew Rhys

Summary:

Elizabeth (Keri Russell) and Philip Jennings (Matthew Rhys) are KGB agents posing as married Americans just outside of Washington D.C. during the 1980s.

Genre(s):

Drama
Creator:

Joe Weisberg

Show Type:

Between Seasons

Season 1 premiere date:

Jan 30, 2013

Episode Length:

60

Air Time:

10:00 PM
Based on the admittedly small sample size of two episodes, The Americans feels like it could very comfortably slot in with the upper tier of FX dramas. That's about as good as it gets.

The Americans unfolds a thoroughly seductive tale of sleeper KGB agents.

The Americans is delightfully cunning, exactly the quality, along with fight scenes and ridiculous disguises, one desires in a spy show.

By episode 2, though, after the crammed (and super-sized) premiere, [creator] Weisberg reveals a sure sense of detail that bodes well for the future of the series.

[An] exciting but frustrating spy thriller from former CIA employee and writer-executive producer Joe Weisberg, skillfully captures the anxiety of the age.

The Americans at the moment seems to fall uneasily between the methodical and the campy.
Great pilot! To begin, what's not to like about a spy thriller set in the 80's with a huge twist. It actually had me, a patriotic military

member, routing for the Ruskies. The character relationships are off to a great start and will no doubt become more in depth as well as a huge part of the show. I can't wait for the next episode! I still don't know if I should be routing for the FBI or the sleeper agents!

…

Expand

FX has done it once again! I was hooked on The Americans from the getgo. I cannot begin to tell you what a great show this is. It leaves you

on the edge of your seat from the 1st minute to the last. The plot has more twists and turns than a pretzel. I have seen the first 2 episodes of Season 2 and I am not disappointed. What I especially love about this series, is the realism of the 1980s applied into the series, the cars, the clothes,phones,even the food. It helps bring this era alive and really adds "life" to the series. The Americans is a smart,snappy show thanks to the actors, writers and producers giving special nod to Graham Youst who also produced another one of my favorite shows, Justified.

…

Expand

One of the best shows ever produced by american television. It has the right pace and stays within the realms of plausibility, characters look

like any other flawed human being, with their own dramas and inner conflicts. The show doesn't try to portrait anyone as the "bad" guy, its just a bunch of people tied into a messed world trying to do their best to protect what they believe is right.

People seem to criticize this show for being slow paced, yes it is slow paced, but that is the goal, do we need another completely unbelievable and ridiculous show with the usual cliche bad commies and the strong patriotic american hero?

It's refreshing to see american television evolving and producing good shows that actually have a plot and believable characters.

…

Expand

Instead of the leads in 'The Americans' who have been dissected enough by everyone, I'd like to talk about one of the ancillary

characters.There's the archetype of the Seductress, the Siren, in Literature, TV and Cinema the lady who uses her let's say Womanly charms to get men to do her bidding. Here's how it plays out in any visual medium –well endowed Women sleep with Men and then these poor saps proceed to grant there wish as soon as the act is done tell them their life story and inconsequential things like revealing where the nuclear launch codes are and such. Men know it's hogwash they've known it all along, all the Film TV Show creators want the audience to believe that is all there is to it and all men are indeed that stupid (I'll grant you some are) and for some reason the audience decides to play along. Every single time, same MO large breasted woman a squirrely little Man seduction 101! Meet Nina (I have no idea who is playing that role she works for the KGB in an administrative capacity it's made clear to us she doesn't do any "spy" stuff. I was mesmerized by her performance. I doubt too many people will notice it or talk about it. But I urge you to observe her closely Nina is pretty but not stunning, definitely not the stuff the fantasies of teenage Boys are made of. Watch how she interacts with men there are no suggestive glances, she never flirts with them or for that matter does anything at all to indicate she might have a romantic interest in them. She looks vulnerable but does not try to come across as a damsel in distress. She's always fully clad Not even a hint of cleavage, the camera too always stays on her face. She is very conscious of the effect she has on men and yet very deliberately underplays her sexuality she speaks softly, always polite and demands absolutely nothing from them, Men find themselves instinctively drawn to her because it's so apparent that she doesn't have an agenda. Her handler is an intelligent FBI agent who'd good at being one despite himself he somehow ends up wanting to rescue her (so to speak). I was completely in thrall of her, she has played this role with such consummate finesse that you'll totally understand why men end up wanting her. The lore of 'Mata Hari' would have us believe that she was some kind of a Sexual Goddess, I somehow doubt that there had to be something more to her, I believe she might have been someone like Nina. And like our FBI agent I promise you the thought will cross your mind about what she might be wearing underneath those garbs and when his Boss tell him "Woman like that could have us for breakfast. Did she have you for breakfast Stan" you'll know exactly what he means. Male protagonist is played by Matthew Rhys (unknown name to me), he has given a stellar performance as a KGB agent hiding in plain sight (at par with our Mr.Brody from Homeland), Rhys too could have easily played the lead in Homeland. The only weak link in this otherwise tightly knit espionage thriller is the female lead played by Keri Russell. The problem is, Claire Danes has acted the hell out of the role she plays in Homeland the comparison therefore is inevitable. Unlike Carrie Mathison who survives on hers wits Keri's character is something else altogether. We see her more than once beating men weighing 120kgs to a pulp, I don't care if you were trained by the KGB in the cold and desolate grounds of Siberia for 5 years or lived among the Shaolin monks for a decade, fact is if you weigh 40Kgs you'r not going to take a 140Kg gorilla down. It's not about skills it's just biology. The show is still a very pleasant and refreshing change from countless other espionage dramas we have seen. One overused and quite frankly rather annoying plot device which writers use is "hacking". Need access to information no problem just hack the_fill agency name here_database, generic meaningless drivel which is indicative of poor and lazy writing. You find yourself in a corner, get imaginative and have the characters hack there way out of whatever quandary they find themselves in the real "hacks" in my opinion are the writers here.Good thing it's set in the 1980s so people have to rely on some good old fashioned John le Carre style spycraft to get the desired results and access to information. Sure, some parts of the show do defy belief at times but they never come close to being incredulous, what's also different is during such parts unlike other shows characters don't say that the caper they are planning is brilliant and flawless, like the Audience they too know it's stupid, will not work and could get them killed and they say precisely that. Tough not to like a Hero brave enough to acknowledge that.Just so you know where I'm coming from, 'Homeland' is a 10 in my book if you liked that show you'll like this one too.

…

Expand

I've started watching this show somewhat by chance, reading some reviews on Metacritic.
Well, I really get enthusiastic for doing it! I

don't want to speak about the storyline because, you know, it'll take too much time; but I just want to give you a tip: watch it and you won't regret it!

…

Expand

I'm starting to think FX does no wrong. Their programming has been incredible lately. I decided to watch The Americans for two reasons, 1.

American Horror Story season 2 came to an end and I needed to fill that void. 2. I love history, and the idea of Russian spies intrigued me. It's a quick show. A bit hard to grab at first but if you stick with it, It's one hell of a ride! The fighting scenes are terrific and the dialog is incredibly smart.

…

Expand
Our look back at the 2013-14 television season includes all of the year's award winners as well as the season's highest-scoring programs.

Published:

December 11, 2013

We reveal the 10 best-reviewed first-year TV series that debuted this year. Plus, get a list of the top TV movies, miniseries, and specials, and rankings of all new shows by network.