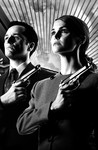 Summary:

Elizabeth (Keri Russell) and Philip Jennings (Matthew Rhys) are KGB agents posing as married Americans just outside of Washington D.C. during the 1980s.

Genre(s):

Drama

Show Type:

Between Seasons

Season 1 premiere date:

Jan 30, 2013

Episode Length:

60

Air Time:

10:00 PM
Based on the admittedly small sample size of two episodes, The Americans feels like it could very comfortably slot in with the upper tier of FX dramas. That's about as good as it gets.

The Americans unfolds a thoroughly seductive tale of sleeper KGB agents.

The Americans is delightfully cunning, exactly the quality, along with fight scenes and ridiculous disguises, one desires in a spy show.

By episode 2, though, after the crammed (and super-sized) premiere, [creator] Weisberg reveals a sure sense of detail that bodes well for the future of the series.

[An] exciting but frustrating spy thriller from former CIA employee and writer-executive producer Joe Weisberg, skillfully captures the anxiety of the age.

The Americans at the moment seems to fall uneasily between the methodical and the campy.
Great pilot! To begin, what's not to like about a spy thriller set in the 80's with a huge twist. It actually had me, a patriotic military

member, routing for the Ruskies. The character relationships are off to a great start and will no doubt become more in depth as well as a huge part of the show. I can't wait for the next episode! I still don't know if I should be routing for the FBI or the sleeper agents!

…

Expand

Best show on television. The finale was just amazing. Great realism with good politics combined with fantastic charter development.

Oh ..

and not afraid to kill off major characters which always keeps you guessing.

…

Expand

This review contains spoilers, click expand to view.

Very good show. One of the very best new TV dramas this year. Well written and well acted (though I am not entirely sold on Kerri Russell) Really spot on portrayal of the the cold war; really find myself rooting for the Russian spies, which I imagine is quite common and is actually a testament to how well this show is written.

…

Expand

I loved season one of this series.

It's a unique approach taken by focusing on the KGB agents as opposed to the FBI guys, presenting the viewer with an odd sense of duality in routing for both groups of agents to succeed.

The acting is good, and the sub plots help flesh out some of the episodes that otherwise could be a bit mundane.

Very enjoyable.

…

Expand
Our look back at the 2013-14 television season includes all of the year's award winners as well as the season's highest-scoring programs.

Published:

December 11, 2013

We reveal the 10 best-reviewed first-year TV series that debuted this year. Plus, get a list of the top TV movies, miniseries, and specials, and rankings of all new shows by network.