Network:

ABC

Series Premiere Date:

Jan 2, 2014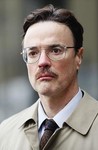 Starring:

Stuart Milligan

,

Ralph Brown

,

Julian Ovenden

Summary:

CIA-counterintelligence-analyst-turned-soviet-spy Aldrich Ames (Paul Rhys) tries to stay one step ahead of CIA agents Sandy Grimes (Jodie Whittaker) and Jeanne Vertefuille (Harriet Walter), who want to stop the person responsible for the leaks before they endanger more people in this

CIA-counterintelligence-analyst-turned-soviet-spy Aldrich Ames (Paul Rhys) tries to stay one step ahead of CIA agents Sandy Grimes (Jodie Whittaker) and Jeanne Vertefuille (Harriet Walter), who want to stop the person responsible for the leaks before they endanger more people in this eight-episode miniseries based on the book "Circle of Treason: A CIA Account of Traitor Aldrich Ames and the Men He Betrayed."

…

Expand

Genre(s):

Drama

,

Movie/Mini-Series

,

Action & Adventure

,

Suspense
Season 1 premiere date:

Jan 2, 2014

Episode Length:

60
The Assets isn't flashy, but boy, is it effective. It just grinds away, laying down intriguing details of "asset" care and feeding, made vivid through determined performances and intense crescendos.

Rhys and Whittaker are terrific and the two big reasons to watch the series.... Speaking of assets, credibility of the story is nicely enhanced by muted cinematography and art direction, emphasizing that catching spies is done by nondescript men and women who lead seemingly normal lives and work in under-decorated offices deciphering codes and other information.

It's got some of the same appeal [as Scandal], but at its core, it's a strong spy thriller with a few fascinating characters, not a splashy nighttime soap. And that's okay.

In Assets, I wanted more about Ames and his motives--and maybe that will come later--but this is Grimes' story, right down to how her job affected her home life.

The series, unevenly written, frequently given to strange tonal lapses, is nevertheless lively, its dramatization of events abetted by its setting.

The Assets is uneven, with some excellent scenes and quite a few bad ones.

The Assets just can't get untracked, lumbering through its first two hours without any sense of purpose, style or urgency.
This was an incredible telling of a story I remembered from the headlines. It was exciting and enthralling. Every bit as thrilling as

This was an incredible telling of a story I remembered from the headlines. It was exciting and enthralling. Every bit as thrilling as Netflix's House of Cards. Best series I've seen in a long time.

…

Expand

Great acting and solid story. Underpromoted by network suits, it didn't get a big audience. A shame, as the true story is well told and

Great acting and solid story. Underpromoted by network suits, it didn't get a big audience. A shame, as the true story is well told and convincingly portrayed with good period details (80s). Best bet is to wait for it to show up on Netflix or Hulu and watch the whole thing through.

…

Expand

I was extremely disappointed to find that The Assets had been cancelled so abruptly after only two episodes. In my opinion, it had the

I was extremely disappointed to find that The Assets had been cancelled so abruptly after only two episodes. In my opinion, it had the potential to be a great series. I do wonder what the real reason is for it being cancelled so abruptly.

…

Expand

The night I taped this pilot we had a power outage, so I had to search up the episode on the network website. It was okay. The story is

The night I taped this pilot we had a power outage, so I had to search up the episode on the network website. It was okay. The story is interesting, but the actors are boring. It did remind me, however, that I'm glad the 80s, with their shoulder pads, punk rock styles and perms are over, so A+ for costuming.

So much of the show seemed to be in dark light. It was almost as if they had found an old copy of a film from the 80s, but forgot to restore it for HD TV.

I will say this, though. I will be buying the book. This is about an important part of American history and having a chance to understand it from the viewpoint of the people who were there is worth the price of a book.

…

Expand

An interesting tale made dull and stolid by poor writing, listless direction, and a largely Brit cast. Le Carre or Deighton it ain't. I'm

An interesting tale made dull and stolid by poor writing, listless direction, and a largely Brit cast. Le Carre or Deighton it ain't. I'm hoping with all the different directors and writers it'll get some life.

…

Expand

Good and potentially compelling concept made into soap opera quality by wooden acting mixed with overly-emotional, huskily-whispered or loudly

Good and potentially compelling concept made into soap opera quality by wooden acting mixed with overly-emotional, huskily-whispered or loudly argued exchanges between CIA personnel. In what world is it that every CEO or head doctor or chief of staff is a very young, perfectly made-up, blond woman? Jodie Whittaker may be a good actress, but in this series, she comes off as quite unbelievable as a major player in the CIA. It may be the directing, it may be the producers, or everyone involved, but making a potentially tense, political drama into another witless, poorly acted series was not a brilliant idea.

…

Expand

Fascinating story which I remember from its actual occurrence years ago. The problems I have with this show stem from its incredibly uneven

Fascinating story which I remember from its actual occurrence years ago. The problems I have with this show stem from its incredibly uneven and confusing writing and a level of acting that barely exceeds afternoon soap opera standards. The Americans all seem a bit stupid (except for our heroine) but considering how obvious Aldrich Ames's unexplained new wealth was maybe that is true. The Russians are all gruff and insulting and, well, "comic Russian".

I will continue to watch the series only because the actual events fascinated me but I feel that this production belongs more on a high school stage than on a major TV network.

…

Expand