Network:

IFC

Series Premiere Date:

Oct 18, 2013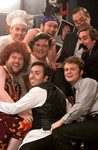 Starring:

Bob Odenkirk

,

Mike Mitchell

,

Jefferson Dutton

Summary:

Bob Odenkirk (Mr. Show) joins with Los Angeles-based comedy troupe The Birthday Boys for a new sketch comedy series. Odenkirk and Ben Stiller serve as producers.

Genre(s):

Comedy
Season 1 premiere date:

Oct 18, 2013

Episode Length:

30
The high-energy group's smart, counterintuitive brand of absurdism is especially reminiscent of The State. [18 Oct 2013, p.61]

It seems like they're trying to build a little universe of their own, on the shoulders of the most notable sketch shows of the past. It's a show worthy of attention for that reason alone, and doubly so because it's often funny as hell.

The two episodes I've seen are very good--engagingly twisted, more invested in ideas than jokes, often funny, usually admirable.

This is not sophisticated, drawing-room humor. It's closest to what they used to call college humor, and what is now considered stoned humor. But beneath the silliness is gentle but still dead-on satire that makes The Birthday Boys worth a look and a laugh.

If you are reaching the saturation point with this type of sketch work, The Birthday Boys may cause you to sigh at the sameness of it all. But if you've stayed away from those other yucksters, these ones provide fairly consistent midlevel laughs.

The Birthday Boys is a consistently funny show for viewers who are regular consumers of pop culture and recognize the elements from TV and film that are being spoofed.

The more frequently Birthday Boys returns to seemingly unfunny or barely funny bits, the funnier they eventually become--another Python borrowing, and a good one.
This show is amazingly good out of the gate! The episodes really hold together well. Evokes Monty Python and obviously Mr. Show--both in sense

This show is amazingly good out of the gate! The episodes really hold together well. Evokes Monty Python and obviously Mr. Show--both in sense of humor and in consistency of original ideas. First season gets better and better.

…

Expand

The Birthday Boys, both the group and the TV show, adds an element to sketch comedy that really should be a lot more widespread in the genre:

The Birthday Boys, both the group and the TV show, adds an element to sketch comedy that really should be a lot more widespread in the genre: unpredictability. With few exceptions, The Boys avoid the common pitfall of sketches that do nothing but escalate, taking one gag and making it more and more extreme. There is always an element of unpredictability, stemming largely from the wide array of approaches taken by the group. Very little feels rehashed or overdone; the complete lack of topical sketches and very few pop culture references allow for novel ideas to flourish, and it's immediately clear why Bob Odenkirk was drawn to this production. This is quickly becoming my favorite IFC comedy (and one of the best on TV right now). It has the quirks and idiosyncrasies of Comedy Bang! Bang! but the hits:misses ratio is a lot higher. Here's hoping for a second season.

…

Expand

It's not a bad show and some of the skits are good but it's lacking a much needed spark. It reminds me a lot of when The Kids in the Hall

It's not a bad show and some of the skits are good but it's lacking a much needed spark. It reminds me a lot of when The Kids in the Hall went off the air and they tried to replace it with The Vacant Lot. It simply doesn't bear the comparison to Portlandia that Odenkirk implied during the trailers. The group seems too large and the editing seems to fall flat.

…

Expand

Mr Bob Odenkirk must be turning in his grave. After 8 episodes perhaps 3 sketches have been funny. This show makes the Whitest kids you know

Mr Bob Odenkirk must be turning in his grave. After 8 episodes perhaps 3 sketches have been funny. This show makes the Whitest kids you know seem genius and makes comedy bang bang seem watchable and funny once an episode.

…

Expand

Too many sketch group members, and none of them memorable besides the wide-headed chin guy. Slooooooooooow and too derivative. A Python

Too many sketch group members, and none of them memorable besides the wide-headed chin guy. Slooooooooooow and too derivative. A Python rip-off, minus the wit.

…

Expand

Truly awful. I have no idea where the Python comparisons come from. The sketches are weak and lack any subtlety. If you want absurd comedy try

Truly awful. I have no idea where the Python comparisons come from. The sketches are weak and lack any subtlety. If you want absurd comedy try "Toast of London"

…

Expand

Not sure what show everyone else is watching, but personally I find this show completely without humor. I have watched five episodes

Not sure what show everyone else is watching, but personally I find this show completely without humor. I have watched five episodes desperately wanting to find it funny, but it just isn't.
Most of the sketches seem to be inside jokes that only they really understand, or seem to find funny. Case in point the Roofers, or the guys who know the secret formulas for different colas hanging out, or just pick a sketch, none of them have any sense of the basic structure of comedy. They set up jokes and never pay them off, and most of the time they never even set up a joke.
Go with the Kroll Show for sketch with comedy instead of a bunch of wanna be jokesters.

…

Expand