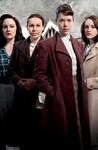 Starring:

Julie Graham

,

Anna Maxwell-Martin

,

Rachael Stirling

Summary:

Susan (Anna Maxwell Martin) contacts her friends from her time as a World War II code breaker at Bletchley Park--Millie (Rachael Stirling), Lucy (Sophie Rundle) and Jean (Julie Graham), to help her solve a series of murders in London.

Genre(s):

Drama
Season 1 premiere date:

Sep 6, 2012

Episode Length:

60
Please enter your birth date to watch this video:
You are not allowed to view this material at this time.
Both series [The Bletchley Circle and "Call the Midwife"] find a clever, entertaining way to pay tribute to women who in their time were often overlooked and underestimated, and nevertheless found ways to never be ordinary.

Perfectly cast and cleverly paced, consider it a mini-"Masterpiece Mystery" for that franchise's crime-loving loyalists.

With its fine acting, tight script, and tense tone, The Bletchley Circle is pure ecstasy for mystery fans.

The intriguing three-part The Bletchley Circle, which admirably avoids preciousness as it depicts the teamwork of four women who during WWII worked secretly for the government as code breakers (Bletchley Park was their HQ).

While the mystery genre has a rich history of incisive social commentary animating a compelling investigation, this series struggles to balance an examination of women's place in post-war Britain and a classic race-against-time mystery.

The performances are superb and make Bletchley Circle more than the sum of its pedantic parts.
Excellent actors, director and plot. Really refreshing! Too bad people did not support a third season. This kind of quality work deserves

Excellent actors, director and plot. Really refreshing! Too bad people did not support a third season. This kind of quality work deserves higher ratings

…

Expand

Excellent writing, acting, and plot. Riveting and suspenseful. Susan does a couple of unwise things to ratchet up the suspense, but it's quite

Excellent writing, acting, and plot. Riveting and suspenseful. Susan does a couple of unwise things to ratchet up the suspense, but it's quite forgivable.

…

Expand

I've seen the whole show and it's a fine one. The 4 main characters do well, even though there are a few rather gaping plot holes. (A million

I've seen the whole show and it's a fine one. The 4 main characters do well, even though there are a few rather gaping plot holes. (A million times better than The Following, however.) The entire metaphor for early feminism and women coming into their own in law enforcement in this case is most rewarding. Very well acted by the ladies but the men are sort of 'cardboardish'. If they move on from this series, it would be great to see the show with more 'rounded' characters on both sides of the gender war. Still, enjoyable and full of potential.

…

Collapse

Terrific acting, lighting, but a little unbelievable that a woman would walk alone in the dark to a mansion... another

Terrific acting, lighting, but a little unbelievable that a woman would walk alone in the dark to a mansion... another twist on Gothic Horror show.

…

Expand

I have to admit I am a student of the history of Bletchley Park and the code breakers and have visited the facility recently. I initially

I have to admit I am a student of the history of Bletchley Park and the code breakers and have visited the facility recently. I initially thought the series was about BP and its role during WWII but it is much more. The story line is fascinating and the period costumes, automobiles, interior decoration of the buildings and use of restored train stations and buildings put the viewer into the period with the actors. The four lead actors are superb in their respective roles. Because this is a British series (shown on PBS in the US) you have to concentrate a bit on the dialogue and accents. The series was recently renewed for another season and f I look forward to the next mystery for them to solve.

…

Expand

This review contains spoilers, click expand to view.

Disappointing ending, what was a well thought out and captivating Episode 1 drifted too quickly into nonsense. Why would a brilliant woman knowing the suspected murderer visit him by herself and not tell anyone? -And then begin complying to his weird requests? Ending is a complete mess should have been scrapped.

…

Expand

Veddy British. Stifff upper lips and all that. Ex spy ladies hunt down a serial killer with statistics. Interesting if a little predictable

Veddy British. Stifff upper lips and all that. Ex spy ladies hunt down a serial killer with statistics. Interesting if a little predictable and at times silly; who flounces off alone at a killers command and walks into a dark basement.... The method of tracking the killer down seems fascinating but in reality is quite ludicrous, and follows the usual media fascination with the myths of profiling. Most of all I feel sorry for the poor husband left in the dark for another season about his "little" wife's secret life.

…

Expand