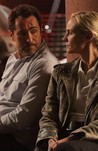 Summary:

Sonya (Diane Kruger) meets a man from her past as Marco (Demián Bichir) continues to battle corrupt cops and the cartel. While the ongoing investigation by El Paso Times reporters Daniel Frye (Matthew Lillard) and Adriana Mendez (Emily Rios) may lead to something major.

Genre(s):

Drama

,

Action & Adventure

,

Suspense
Show Type:

In Season

Season 2 premiere date:

Jul 9, 2014

Episode Length:

60

Air Time:

10:00 PM
It's a show with a much stronger command of its subject matter and awareness of its own strengths and weaknesses--even as The Bridge still seems to be stuck in that nebulous border region separating the pretty good from the genuinely great.

It moves along with purpose and energy, but it's often at its best when finding colorful details and or allowing small, telling moments to breathe.

Drug cartels, a room of shrink-wrapped bills (worth $60 million), body bags and buckets of blood are just some of the intriguing elements in this uniquely Mexican-American drama, where the layers of corruption on both sides of the border seem impenetrable.

Matthew Lillard, Emily Rios, Thomas M. Wright, Ted Levine and Annabeth Gish are well cast and their characters are fully sketched. Having seen two hours of season 2, I'm not ready to give up yet, but I'm starting to prioritize TV's darkest hours and wonder if The Bridge will make the cut.

The plotting of The Bridge can be dense. That doesn't undermine my enjoyment of the show, but there are moments in between revelations when I sometimes feel at sea.

Marco Ruiz and Sonya Cross' odd-couple pairing often mirrors the relationship between reporters Adriana Mendez (Emily Rios) and Daniel Frye (Matthew Lillard), and I still find all of them interesting, even if I'm a little concerned that their parallel story lines may take The Bridge too far again this season.

Bichir's still very good at the start of season two but the writing has lost almost all of its focus, switching from a mystery series to a piece that tries to capture the dark edge of crime on the U.S.-Mexico border and gets muddled along the way.
A much different season than the first. It's darker and the overall plot is much more complex. The whole story is made up of numerous

connecting smaller plots that each involve their own characters and view-points. It's a rather grand scale. It'a also a much more shocking season. Seems like there's always some crazy stuff happening on-screen. It definitely carries a much different feel when compared to the first season. This new tone will alienate some fans of the first season, but for me It's a welcome change. Even as someone who wasn't too fond of the first season, I'm finding plenty of stuff to love in season 2 so far. I'm finding it to be one of the most interesting and entertaining returning shows of 2014, and I recommend you check it out.

…

Expand

Two episodes so far and all it involves is weird sex scenes and dark characters. Not at all like the original show, and I don't like it at

all. What happened to the great writing regarding the border crossing challenges and the investigations centered around that? After all, what is the name of the show...oh yes, The Bridge! Not worth watching any longer.

…

Expand