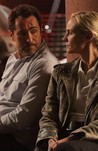 Summary:

Based on the Danish/Swedish drama Broen, the American version takes place on the U.S. and Mexican border where a murdered body on a bridge between El Paso and Juarez bring together El Paso detective Sonya Cross (Diane Kruger) and Chihuahua State Police detective Marco Ruiz (Demián Bichir) to

solve the case.

…

Collapse

Genre(s):

Drama

,

Action & Adventure

,

Suspense
Show Type:

In Season

Season 1 premiere date:

Jul 10, 2013

Episode Length:

60

Air Time:

10:00 PM
FX may have struck dramatic gold again. This series is mesmerizing. It sucks you in like a good book and has you yearning for more.

The Bridge translates brilliantly, fitting into its new setting so perfectly, you'd never imagine it had aired in any other incarnation.

With these characters, with this fascinating, complicated place--and one that's at the forefront of so much of what we're talking about in real world politics--and the sense of atmosphere instilled by directors like Gerardo Naranjo, The Bridge is off to such an outstanding start that I can't wait to see what this creative team does not only with the rest of the serial killer story, but well beyond it.

The Bridge becomes more intriguing as it gets deeper into the pilot's 90-minute run time.The characters are not as immediately winning as those on FX's "The Americans," but the plot of the pilot raises plenty of questions that should bring viewers back.

It has a seamless and almost hypnotic quality to its narrative, and it's easily one of the best debuts this year.

The Bridge is, overall, a good show with some great performances--including Ted Levine as Lt. Wade, who's a show stopper.

Although there are elements here that merit continued attention, most notably Demian Bichir as a dedicated Mexican cop, there are too many missteps to ensure safe passage.
Top notch acting with a dream cast! This dreamlike trance of a show is like Tony Scott's "Man On Fire" on quaaludes. Its a mesmerizing

beautiful ,sexy, frustrating, violent, funny,serious psychological drama, with deep layers that get constantly displayed. There are so many personalities that should not be able to thrive together, yet somehow mesh enjoyably. A fabulous show that has yanked me in hook,line and sinker! Hope to enjoy it for a Long time!

…

Expand

It starts out very strong and absorbing. the mysteries was a little too typical,for those who had watched show like "The Killing". It got

similar premise of "Who's killing who",but what differs it from other cop drama was its atmospheric tone that it had and surprisingly compelling drama. speaking about surprising,the leading lady Diane Kruger was undeniably interesting to watch as this workaholic detective with little (very little) lack of empathy. i never though that she could carried it through almost like Claire Danes in "Homeland".this series has it all,from twisting mystery,compelling drama,and interesting character. it depend viewer of whether or not they want to see something more realistic and dramatic show about cops and detective like this US version of "The Bridge". I know i do and eager to see how its slowly resolve.

…

Expand

Diane Kruger's portrayal of Sonya Cross is what keeps me coming back each week. I am not all that engaged in the investigation of the

'bridge' murder, hopefully that will change. The character of Sonya can be funny and sad, seemingly at the same time. The idea of a detective with Asperger's syndrome lends itself to exploring a cop show with an entirely new light.

…

Expand

well, i saw the pilot and i really liked it. Sometimes there're some irritating moments but immediately i forget it, but at least the story

is so realist.

…

Expand

Why watch a show on cops, if it is yet another clown act? There was little to absolutely no realism in this show. A pair of dumb and dumber

doughnout eating coffee drinking smegs, the equivalent to the fiction displayed. Why are these morons in the literal sense handling any kind of investigation? Look at the cliche of the police cheif. No genuine forensic's on scene, watch the body split in half not being noticed immediately, no sniffer dogs checking vehlcies, no chopper to pursue a would be suspect who was casually glanced by and then waved on being the nearest vehicle to the crime. Her response back to the victims husband, faceplam and not from a specialist. This show is primetime The premise is of another serial killer dun nananana who stalks victims on both sides of the border. So why have we got these fools doing the groundwork? Atleast the serial killer will be so clever and it will take them an entire season of episodes to figure him out. Make it past 15 minutes I dare you why would you want closure here, and why would you want to see this?

9 out of 10 coming from some people who brainlessly don't live in the real world. This show is ridiculous and should come in warning to it's obvious disorders. The music is awful. Slow mo throughout to the point retirement drama. Dialogue is equally nonsense

…

Expand