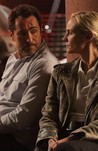 Starring:

Annabeth Gish, Ted Levine, Eric Lange

Summary:

Based on the Danish/Swedish drama Broen, the American version takes place on the U.S. and Mexican border where a murdered body on a bridge between El Paso and Juarez bring together El Paso detective Sonya Cross (Diane Kruger) and Chihuahua State Police detective Marco Ruiz (Demián Bichir) to

solve the case.

…

Expand

Genre(s):

Drama

,

Action & Adventure

,

Suspense
Show Type:

Ended

Season 1 premiere date:

Jul 10, 2013

Episode Length:

60

Air Time:

10:00 PM
FX may have struck dramatic gold again. This series is mesmerizing. It sucks you in like a good book and has you yearning for more.

The Bridge translates brilliantly, fitting into its new setting so perfectly, you'd never imagine it had aired in any other incarnation.

With these characters, with this fascinating, complicated place--and one that's at the forefront of so much of what we're talking about in real world politics--and the sense of atmosphere instilled by directors like Gerardo Naranjo, The Bridge is off to such an outstanding start that I can't wait to see what this creative team does not only with the rest of the serial killer story, but well beyond it.

The Bridge becomes more intriguing as it gets deeper into the pilot's 90-minute run time.The characters are not as immediately winning as those on FX's "The Americans," but the plot of the pilot raises plenty of questions that should bring viewers back.

It has a seamless and almost hypnotic quality to its narrative, and it's easily one of the best debuts this year.

The Bridge is, overall, a good show with some great performances--including Ted Levine as Lt. Wade, who's a show stopper.

Although there are elements here that merit continued attention, most notably Demian Bichir as a dedicated Mexican cop, there are too many missteps to ensure safe passage.
The bridge seems off to a decent start. The main character, Diane Kruger, is an autistic detective trying to solve murders around the border

(aka the bridge) of Mexico. At first you might be inclined to feel annoyed at her, but understanding that she is autistic will hopefully shed some light as to why she acts the way she does for all viewers. She is a very interesting character with some great potential for the series given how she acts around people. There is a slight of humor to be found with Kruger in her interactions; sometimes it can be difficult to tell if you want to feel annoyed or sympathetic with her which is a very unique juxtaposition. The worst thing I felt about the Bridge's premiere was that the direction seemed confusing at times regarding the man who has a heart attack at the beginning. A lot of importance is put on him and his wife and it didn't really seem to tie in to the main story early on. There is a good climactic amount of tension at the end of the premiere episode, but I won't spoil it for anyone.

…

Collapse

I'm a sucker for crime dramas so I watched The Bridge with high expectations.Overall I was pleased.The main characters compliment each other

well and Diane Krugers character became more interesting after I learned she had aspergers,a form of autism,from a critic review.Demian Bichir was great as well and I look forward to the next few episodes.I like the Mexican/American themes crossing frequently and the backdrops set the mood for suspense and tension,although not quite as moody as The Killing does.I will definitely follow the rest of this season and hope,as with most FX shows,it will get better and better.

…

Expand

Aside from the confusing personality of Kruger, which comes off as annoyingly overacted, The Bridge is well acted, the script and location are

original, and the pace is just about right. I look forward to season 2.

…

Expand

Why watch a show on cops, if it is yet another clown act? There was little to absolutely no realism in this show. A pair of dumb and dumber

doughnout eating coffee drinking smegs, the equivalent to the fiction displayed. Why are these morons in the literal sense handling any kind of investigation? Look at the cliche of the police cheif. No genuine forensic's on scene, watch the body split in half not being noticed immediately, no sniffer dogs checking vehlcies, no chopper to pursue a would be suspect who was casually glanced by and then waved on being the nearest vehicle to the crime. Her response back to the victims husband, faceplam and not from a specialist. This show is primetime The premise is of another serial killer dun nananana who stalks victims on both sides of the border. So why have we got these fools doing the groundwork? Atleast the serial killer will be so clever and it will take them an entire season of episodes to figure him out. Make it past 15 minutes I dare you why would you want closure here, and why would you want to see this?

9 out of 10 coming from some people who brainlessly don't live in the real world. This show is ridiculous and should come in warning to it's obvious disorders. The music is awful. Slow mo throughout to the point retirement drama. Dialogue is equally nonsense

…

Expand
Published:

September 17, 2014

With the summer TV season winding down, it's time to re-evaluate the summer shows. Find out why critics now love shows like FX's You're the Worst and The Bridge, read what they thought of BoJack Horseman, The Leftovers and Halt and Catch Fire, and see if The Strain and Masters of Sex are heading downhill.