Network:

The CW

Series Premiere Date:

Jan 14, 2013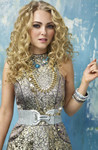 Starring:

Matt Letscher

,

Austin Butler

,

Freema Agyeman

Summary:

The prequel to the Sex and the City series follows the life of Connecticut high school junior, Carrie Bradshaw, as she begins her journey with an internship at a Manhattan law firm in the 1980s.

Genre(s):

Drama
Season 1 premiere date:

Jan 14, 2013

Episode Length:

60
The CW's attempt to capture the magic of "Sex and the City" in a prequel, set in 1984, could have gone very wrong. But The Carrie Diaries is surprisingly right.

[AnnaSophia Robb is] compelling, and the show has a sweetly corny charm. [18 Jan 2013, p.71]

The situations are stock--John Hughes wrote this playbook pretty thoroughly--and the dialogue does not exactly crackle. But it is all well-staged and believably played and at times it becomes quite lyrical and, even, moving.

The rest of the show goes on to prize sweetness over superficiality.

AnnaSophia Robb is appealing enough in the title role, but Monday's first episode starts to sag from all the CW-ian title character narration and overall pop tune heaviness.

The CW series that takes "Sex and the City" fashionista and sexual anthropologist Carrie Bradshaw all the way back to 1984 Connecticut, and high school, the fit's a little off.

While it's not surprising that The Carrie Diaries is unlikely to appeal to fans of the HBO franchise, it's still disappointing that much of what made that series work has given way to cliché and oversimplification.
Carrie Diaries is a show that makes you think you're watching a John Hughes movie. A show that features 80s fashion, music and NYC is really

Carrie Diaries is a show that makes you think you're watching a John Hughes movie. A show that features 80s fashion, music and NYC is really charming. It definitely doesn't look like a SATC prequel, but its fun to watch a teen show with promising nostalgia.

…

Expand

This show is the best show ever. It really fascinates me and I am always excited for Mondays when it airs. I really think that its only for

This show is the best show ever. It really fascinates me and I am always excited for Mondays when it airs. I really think that its only for girl teens and preteens. I really enjoy this show because I am young. I hate how there's a good chick flick movie and you never want it to end sometimes. That's why I like the Carrie diaries because its like an on going chick flick.

…

Expand

First of all, I never watched SATC before watch TCD, so, to me, TCD it's a wonderful sitcom, that works and make you addicted easily. It's fun

First of all, I never watched SATC before watch TCD, so, to me, TCD it's a wonderful sitcom, that works and make you addicted easily. It's fun to watch, colorful, delightful and a very smart teen show. Also, the soundtrack it's SO amazing. CW should release it.

…

Expand

I thought the shop was adorable and muchly needed. As a fan of Sex and the city I missed seeing a show with a womans voice around. I loved the

I thought the shop was adorable and muchly needed. As a fan of Sex and the city I missed seeing a show with a womans voice around. I loved the opportunity to see where she came from and to see her grow and form into who she was in Sex & the City. Though heaps of critics are unsure about AnnaSophia Robb I think she is just sweet and innocent enough to play the role of Carrie. I'm excited to see what it brings and I truly didn't want episode one to end. It made me feel like a child again and I loved the John Hughes feel to it. It's exciting and dynamic and the characters have depth to them. Can't wait to see more.

…

Expand

I still need to finish the rest of the episodes of this show yeah I know it got cancelled anyways so I loved this show at first. I mean I

I still need to finish the rest of the episodes of this show yeah I know it got cancelled anyways so I loved this show at first. I mean I still like it and all, it's an interesting concept. I have to admit though and don't be mad but one of the only reasons I started to watch this show and still watch it because Austin Butler a.k.a Sebastian is so attractive oh my gosh, and I swear if Carrie does not end up with Sebastian I will be SO mad!

…

Expand

The show seems to have a certain sincerity that many other tween shows lack. I appreciate the 80s music and the TOTAL lack of cell phones and

The show seems to have a certain sincerity that many other tween shows lack. I appreciate the 80s music and the TOTAL lack of cell phones and texting among the teens AND the adults. It's almost strange seeing a group of New Yorkers walking down the street with not a single one of them staring downward at his or her stupid mobile device. In that sense, this is the anti-Gossip-Girl.

…

Collapse

oh no not sex in city prequel i mean seriously saw the trailer of the show i said why???? this look so stupid we dont want to watch how Carrie

oh no not sex in city prequel i mean seriously saw the trailer of the show i said why???? this look so stupid we dont want to watch how Carrie was a teenager still it not going to be successful come on maybe last 5 episode knowing this show wont be as big as sex in city which i find totally find bore.

…

Expand