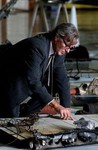 Summary:

Nobel Prize-winning physicist Richard Feynman (John Hurt) investigates the reasons behind the explosion of the Challenger shuttle in 1986 as he faces issues with his health and the NASA supporters on the Presidential commission to uncover the truth.

Genre(s):

Drama

,

Movie/Mini-Series

,

Science

,

Educational
Season 1 premiere date:

Nov 16, 2013
While the narrow view of the tragedy means a limit to the movie's broader appeal, it's intensely refreshing to see a story like this told without any need to soften or commercialize its ideas.

It's both a learning experience and an emotional reminder of what can go wrong in that gray area separating man and machine.

The movie approaches the story with enough time having passed to feel fresh, emerging as a small but engaging international production--one that feels pretty timeless in its look at cover-your-ass bureaucracy--helped by first-class casting that in addition to Hurt includes Bruce Greenwood and Brian Dennehy.

The film is both dramatically viable and instructive. Yes, we learn about science, but perhaps more important, we also learn about standing your ground no matter what challenges you face.

It plays more like a science thriller than a biopic, with Feynman receiving clues scribbled on pieces of paper by NASA engineers.
I enjoyed it. I've long admired Fynman and had forgotten that he was involved in the investigation. It's always hard, I think, to pull off a

I enjoyed it. I've long admired Fynman and had forgotten that he was involved in the investigation. It's always hard, I think, to pull off a movie when everyone knows how it will end, but in this case, it was fascinating to see how much resistance Fynman and other investigators faced during the process.

…

Expand