Network:

Starz

Series Premiere Date:

May 30, 2016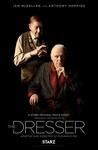 Summary:

During World War II, a small English regional theatre is hosting a touring production of Shakespeare's King Lear. An hour before the show, actor/manager Sir (Anthony Hopkins) who is playing Lear, is missing and it is up to his dresser Norman (Ian McKellen) to keep the show going in this

During World War II, a small English regional theatre is hosting a touring production of Shakespeare's King Lear. An hour before the show, actor/manager Sir (Anthony Hopkins) who is playing Lear, is missing and it is up to his dresser Norman (Ian McKellen) to keep the show going in this adaptation of Ronald Harwood's play.

…

Expand

Genre(s):

Drama

,

Movie/Mini-Series
Show Type:

TV Movie

Season 1 premiere date:

May 30, 2016
The Dresser is a British prestige blowout. It's rich in commanding, frightening, and sad performances, all of which are in service of a beautifully layered script that takes on aging, missed opportunity, and dire regret.

If the relatively simple parallel of the man and his role were all there was to The Dresser, it would be mildly interesting. But what makes it far more than that are the shades of longing, resentment, spite and indifference displayed by members of Sir's circle.

It is, it really is, just as magnificent, powerful and enthralling as you would imagine.

A claustrophobic but ultimately affecting TV movie starring Ian McKellen and Anthony Hopkins.

The Dresser may not be for everyone. It's intimate--in the sense of being both small and intensely personal; it taps into a niche (these are not movie stars); it's all about the power of Shakespeare; it reads, despite the flourishes that Eyre makes as a director to keep it dimensional, as a play shot as a TV movie; and its pacing is odd, but enjoyable.

Sir resembles the Shakespeare character he's playing, and that's the chief flaw in Harwood's play--a too-easy irony. But Harwood makes up for it with the crackling dialogue that pushes The Dresser along at a terrific pace.

If you're predisposed to liking a dramatic stage play and acting showcase, you'll adore it. If you aren't, I'm not sure it's going to win any new fans. It does what it does lovingly, but it's definitely of niche interest.