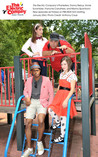 Summary:

The 1970s children's show returns for a new generation.

Genre(s):

Comedy, Kids
Show Type:

Between Seasons

Season 1 premiere date:

Jan 19, 2009

Episode Length:

60

Air Time:

04:30 PM
Though the hip 'n' urban vibe seems overly calculated--did studies show that 8-year-olds respond to beatboxing white dudes?--and the cast is aggressively up with people, you gotta love new characters.

Today's children will certainly find it watchable and will have better language skills after spending time with it. They just aren't likely to still be holding it in their hearts 35 years from now.

All told, the graphics and the easy-to-follow, fun storylines are sure to entertain the show's easily distracted target audience.

The only problem here is that once in a while the producers and cast get so enthusiastic about their production numbers, their words become almost unintelligible.
My sons all love this show. The use of hiphop is an inspired addition to the Electric Company tradition and underscores the important interpla

y between the written word and the spoken word. I also loved the original, and it was right for its time. The new version is right for our time and for our kids today.

…

Expand

This is my daughter's favorite favorite tv show. She has learned vocab, phonics, and even how to use some punctuation. The characters ar

e lovable and easy to relate to. The graphics are just out of this world!

…

Collapse

While the new Electric Company gets an A for Effort (why not an E?), the show misses the mark. The characters have the appeal of an after-sch

ool program for older kids but with subject matter suitable for kindergarteners. This show is simultaneously so close and so far from that mark.

…

Expand

This show is an abomination. The only thing going for it is the title. My kids love the original, this stuff makes us all cringe.