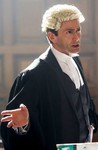 Starring:

Sophie Okonedo

,

Anton Lesser

,

David Tennant

Summary:

Masterpiece Mystery brings the BBC miniseries about barrister Will "The Escape Artist" Burton (David Tennant), who has never lost a case, as he defends accused murderer Liam Foyle (Toby Kebbell). Burton, however, soon discovers his client is more dangerous than he thought.

Genre(s):

Drama

,

Suspense
Season 1 premiere date:

Oct 29, 2013
Please enter your birth date to watch this video:
You are not allowed to view this material at this time.
It may sound like your typical procedural--but by part 1's cliff-hanger ending, it clearly isn't and the very intense Tennant deserves much of the credit for that. [13 Jun 2014, p.77]

It succeeds despite its little kinks in logic, mesmerizes despite the fact that we're moved to pause periodically to marvel at a plot line that requires an audience to believe that the sharpest-witted characters can be oblivious to the screaming-in-neon signs of disaster lying just ahead.

Who the real animal is here remains to be seen, with surprising and mostly satisfying fallout in this taut legal thriller.

As an actors' showcase, The Escape Artist is a distinct success. The fact that that very clearly was not its primary artistic goal only matters so much.

Suffice to say the legal jockeying and cat-and-mouse games are mildly juicy and suspenseful (thanks in part to Kebbell's unsettling performance as TV's latest deranged lunatic with a pleasant face), provided one doesn't work too hard at seeking to decipher them.

Tennant is once again terrific at juggling a lot of emotions from one moment to the next. The supporting cast is also sufficiently fine, including a steely performance from Sophie Okonedo.... Plodding on too far, The Escape Artist becomes a revenge story. And yet, for the ineffably eurocentric reasons I was describing earlier, you keep watching and waiting for the surprise.

At times we're watching largely to see if there will be a clever turn in the writing. It would be better if we were more invested in the character drama.
One of the best courtroom dramas and accompanying personal dramas I've seen in years. All performances were outstanding and although the story

One of the best courtroom dramas and accompanying personal dramas I've seen in years. All performances were outstanding and although the story was told in three distinct parts, the intensity of easy episode never let up, with a terrific hold your breath finale.

…

Expand

Must see TV at its best. Main characters do a great job and the irony of the story is to good for words. Exciting, edge of your seat and

Must see TV at its best. Main characters do a great job and the irony of the story is to good for words. Exciting, edge of your seat and smart. Have not seen a legal/crime show in quite a while that immediately grabbed your attention and did not let go.

…

Expand

This is a taut suspense driven character story-not just a normal procedural. It was a cat and mouse game that you weren't handed the

This is a taut suspense driven character story-not just a normal procedural. It was a cat and mouse game that you weren't handed the antagonist's motives or background on plate-leaving you wondering what was next.
The dark and gloomy landscape added to the atmosphere as well as the set design of minimalist modernistic living spaces juxtaposed to solitary cabin and council flats.
David Tennant was outstanding.

…

Expand

A taut series about a serial killer and the defense lawyers who let him loose, only this time the killer is let loose by the lawyer whose wife

A taut series about a serial killer and the defense lawyers who let him loose, only this time the killer is let loose by the lawyer whose wife he ends up killing, and his biggest competitor for legal bragging rights then gets him off. The legal shenanigans are cynical and ludicrous but, hey this is a drama. In the end the Lawyer goes after the killer the old fashioned way and sets it up so he has the law on his side. The trials are silly, but serve to keep the pot boiling.

…

Expand