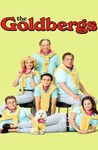 Starring:

George Segal

,

Jeff Garlin

,

Wendi McLendon-Covey

Summary:

Set in the 1980s, this semi-autobiographical comedy centers on young boy (Sean Giambrone as a kid, Patton Oswalt as an adult via narration) who documents his family life with a camcorder. Jeff Garlin, Wendi McLendon-Covey, and George Segal also star.

Genre(s):

Comedy
Season 1 premiere date:

Sep 24, 2013

Episode Length:

30
Please enter your birth date to watch this video:
You are not allowed to view this material at this time.
One of the new offerings that stands out from the pack is ABC's coming-of-age series, The Goldbergs, which is fueled partly by nostalgia, partly by the great Jeff Garlin's constant yelling and partly out of some outstanding writing. A strong cast doesn't hurt, either.

The Goldbergs is funnier because the jokes are better but also because it is more credible [than "Mom"].

Garlin and McLendon-­Covey are believable as variations of "That '70s Show's" parents, and Gentile's Jan Brady-style meltdowns are amusing. But Adam's obsession with female breasts, encouraged by his grandfather "Pops" (George Segal), is creepy, considering the actor looks about 9.

The Goldbergs's ostensibly endearing premise is sadly also its biggest flaw. Goldberg's on-screen representation as prepubescent Adam (Sean Giambrone) fails to complement the voiceover narration and meaningful asides of adult Adam (Patton Oswalt) in any substantial way.

So far so generic, and I'll decide later once my ears stop ringing.

There are some sharp jokes here, but they get lost in the bile. The Goldbergs is like The Wonder Years infected by Married... With Children. It's a half hour of annoying people yelling at one another.
As a kid of the 80s...was born in 74....I really appreciate this show a great deal and "get it". I love going down memory lane and this show

As a kid of the 80s...was born in 74....I really appreciate this show a great deal and "get it". I love going down memory lane and this show is hysterical and fits the 80s decade to a T. I hope ABC lets it grow and stay on the air and doesn't make the enormous mistake that NBC made with Freaks and Geeks and canceling that show so fast. This has the potential to be a HUGE show. Let it grow.

…

Expand

I love this show. It is funny and I especially love the 80s nostalgia. A particular favourite of mine is when the creator shows real home

I love this show. It is funny and I especially love the 80s nostalgia. A particular favourite of mine is when the creator shows real home movies that tie in to the theme of that nights episode. Looking forward to season two!!!

…

Expand

A Family show that gets it right most of the time. I judged this show a bit harshly from seeing the commercials and I must say I was wrong.

A Family show that gets it right most of the time. I judged this show a bit harshly from seeing the commercials and I must say I was wrong. The Goldbergs are actually a family that I have come to appreciate more and more with every new episode. The nostalgia factor is in full swing here and that is okay, because it doesn't completely rely on it for everything. A good amount of heart and sentiment has gone into recreating a family that a lot of people can relate to. It may not be for everyone, but its worth checking out a few episodes to see for yourself.

…

Collapse

As far as my wife and I are concerned, this is one of the best shows on TV. EVERY character is perfect and the grandpa, George Segal is right

As far as my wife and I are concerned, this is one of the best shows on TV. EVERY character is perfect and the grandpa, George Segal is right on the money. I only wish I could be as good a grandpa....

…

Expand

Trust me, as more episodes you see, more big is your love. The Goldbergs is a fantastic sitcom and a very lovely tv show, every character is

Trust me, as more episodes you see, more big is your love. The Goldbergs is a fantastic sitcom and a very lovely tv show, every character is unique but my favorite so far is Beverly.
I didn't even born in the 80s but The Goldbergs makes me feel so nostalgic for that time, how crazy is that?
Definitely worth to watch.

…

Expand

2 things make this a decent watch... Jeff Garlin of course, and the fact that this show is based on a real Goldberg family! The kid has the

2 things make this a decent watch... Jeff Garlin of course, and the fact that this show is based on a real Goldberg family! The kid has the videos for proof! Just imagine you are watching family home videos of real experiences of this kids family and it makes it more enjoyable. Not the best new comedy yet, and can be a bit cheesey, but weren't the 80's comedies all cheese?

…

Expand

I find this show a disgusting role model for kids. Really?? Are these the kind of values we want our children to impart - throwing food at

I find this show a disgusting role model for kids. Really?? Are these the kind of values we want our children to impart - throwing food at their parents at dinner when the parents ask their daughter what's wrong, telling their grandfather off for no reason and calling him a lying idiot, and talking back to police officers. And this was all in about a 5 minute segment. I had to turn the channel. This stuff makes me sick! I am a teacher and a parent of 2 teenagers and over the past 20 years I have watched kids be influenced by garbage TV shows like this that encourage children to disrespect authority on every level. Kids who value these shows have no boundaries, thanks to you. Can't these writers entertain without role-modeling poor values??

…

Expand