Network:

CBS

Series Premiere Date:

Sep 22, 2009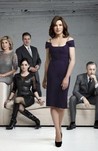 Starring:

Matt Czuchry

,

Christine Baranski

,

Julianna Margulies

Summary:

Alicia is faced with the decision on how much her and the children will be involved in Peter's gubernatorial run, Kalinda's husband (Marc Warren) returns, and Lockhart Gardner face more financial problems.

Genre(s):

Drama
Please enter your birth date to watch this video:
You are not allowed to view this material at this time.
They're delightful. [26 Nov 2012, p.48]

Four seasons in, The Good Wife remains a marvel of clever plotting and tremendously witty ensemble acting.

Even at its most desultory, when the show is happily proceeding through legal drama conventions or even high-concept schlock, the execution, from the writing to the acting, resonates with virtuosic polish.

Fun, wild start to the fourth season--and that's just Kalinda's story.

This being The Good Wife, a show renowned for complicating what might seem obvious, Alicia's new position as a kind of moral compass leads to a new series of dilemmas. Some of these are predictably topical.
Over the course of 4 seasons, with its unique blend of serial and
procedural storytelling, /The Good Wife/ expands the clichéd "good
wife,"Over the course of 4 seasons, with its unique blend of serial and
procedural storytelling, /The Good Wife/ expands the clichéd "good
wife," or melodrama's martyred "coping woman," with a contradictory and
mercurial characterization of a woman whose liberation and corruption
are increasingly intertwined.

…

Expand

The good wife is flat out the best television show on the broadcast networks. The fight to keep the firm alive is engrossing. The Alicia

The good wife is flat out the best television show on the broadcast networks. The fight to keep the firm alive is engrossing. The Alicia will, peter triangle never gets tired. the cases that are presented are topical and, and keep the viewers on edge their seats The motivations of the characters are never clear, which means the show keeps you guessing. The show does not treat the viewer as stupid, rather, as smart enough to understand what is going out with have to dumb it down. This is a rare find on network television to find such a well acted, and well scripted show

…

Expand

This show, along with "Blue Bloods", are quite simply the best scripted shows on network TV. Meaning, the best written, the best directed,

This show, along with "Blue Bloods", are quite simply the best scripted shows on network TV. Meaning, the best written, the best directed, the best acted and the best produced drama out there. Hopefully, Kalinda will get rid of her ex, and revert back to her mysterious, sensual self again. Otherwise, this season is starting off right on track. These shows are not the flashiest or even the most exciting, but are solid quality television.

…

Expand

I was always worried that The Good Wife would fall into the same trap like other TV show with too much going on at the same time: lack of

I was always worried that The Good Wife would fall into the same trap like other TV show with too much going on at the same time: lack of focus. But it all disappears with this season just showing how much this show can still develop, especially with all the characters. Carrie Preston is such an amazing actress and her portrayal of Elsbeth Tascioni really freshen up the entire picture. It's such a shame that she only appears in 2 to 3 episodes each season, but it's probably a good thing so we don't get bored too fast with her attractive quirkiness.

…

Expand

I really am starting to like this show. My wife started watching it and she got me interested in it. I really like the characters and the

I really am starting to like this show. My wife started watching it and she got me interested in it. I really like the characters and the story line.

…

Expand

This season started our shaky. But after episode eleven, "The Good Wife" continues to impress, with one of the best episodes into the series

This season started our shaky. But after episode eleven, "The Good Wife" continues to impress, with one of the best episodes into the series thus far, "Red Team/Blue Team".

…

Expand

The Good Wife: Season 4 is starting to show symptoms of repetitiveness. While the fourth season has a solid new story line with the upcoming

The Good Wife: Season 4 is starting to show symptoms of repetitiveness. While the fourth season has a solid new story line with the upcoming IL governorship election, the writers really need to start developing the major characters such as Kalinda to avoid having her just repeating same conflicts, same secrets just with different names.

…

Expand