Network:

CBS

Series Premiere Date:

Sep 22, 2009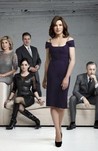 Please enter your birth date to watch this video:
You are not allowed to view this material at this time.
Murky ethics in business, politics and relationships are what fuels The Good Wife, and Margulies in particular is at the top of her game as this emotionally perilous new chapter begins.

It remains the best scripted drama on a broadcast network.
Wow! What a season. I'm speechless. I'm so happy with this show, it is definitely the best drama on broadcast tv. Episodes such as Hitting the

Wow! What a season. I'm speechless. I'm so happy with this show, it is definitely the best drama on broadcast tv. Episodes such as Hitting the Fan, The Last Call and A Weird Year are perfect examples of excellent tv. You all should be watching The Good Wife!!! So ready for season six.

…

Expand

Forget bloodied vampires, gory zombies and sexed-up king-slayers; leave behind the meth lords, groovy ad execs, and grim crime-fighters, The

Forget bloodied vampires, gory zombies and sexed-up king-slayers; leave behind the meth lords, groovy ad execs, and grim crime-fighters, The Good Wife (once looking past the subservient title) is the best show on television. Without resorting to sensationalist gimmicks, or lurid and visceral trappings, or naughty cable-channel hi-jinks, The Good Wife delivers the goods with good old- fashioned story-telling. Great characters, conflicts, themes and plot lines. Excellent rhythm, pacing and form. Splendid acting and fantastic recurring guest stars. Great mix of orchestral, electronic and contemporary music. Did I mention themes? Power, politics, scandal, corruption, ambition, loyalty, lust, rebellion, ego warfare, family guilt, and free-market ferocity. The dramatic tension builds without blowing off blood and bullets (not when power and money, and wit and wile are mightier than the sword). It's now the show I look forward to the most. Better yet, a single season offers up twice as many episodes as any of the cable network darlings. And it bravely goes head-to-head against HBO's Sunday night playbill. I stumbled upon it last year and haven't stopped paying attention since. Season four was good but felt too careful and restrained. So far season five exceeds my expectations. TGW is great drama. And no screaming dragons. Go figure.

…

Expand

Look at the fact that there are only two professional critics reviews here, albeit good ones. The sad truth is that no one except the viewers

Look at the fact that there are only two professional critics reviews here, albeit good ones. The sad truth is that no one except the viewers recognize that The Good Wife is the best drama on tv, and that includes critics darlings like The Walking Dead, Homeland, Breaking Bad, and Game of Thrones.

I guess if people aren't dying in every episode a show can't be any good in their minds. It's time The Good Wife got its due. Spread the word.

…

Expand

It's rare that a show peaks in its fifth season, but "The Good Wife" did it. It excels because it is relevant, intelligent, dark, and witty.

It's rare that a show peaks in its fifth season, but "The Good Wife" did it. It excels because it is relevant, intelligent, dark, and witty. Don't forget your amazing, "Good Wife".

…

Expand

The best season yet. I have to admit it's difficult to see Will & Alicia as opposites. Love what is the Team Florrick Agos, but I don´t hate

The best season yet. I have to admit it's difficult to see Will & Alicia as opposites. Love what is the Team Florrick Agos, but I don´t hate the team Lockhart and Gardner. "Hitting the fan" one of the best episodes of the entire show.

…

Collapse

Thrilling. Suspenseful. Intoxicating. A commentary on human behavior. All of this from a network procedure in its fifth season? Yes. With

Thrilling. Suspenseful. Intoxicating. A commentary on human behavior. All of this from a network procedure in its fifth season? Yes. With extraordinary performances from its talented ensemble and array of guest actors, The Good Wife continues to turn the tables as alliances shift and partnerships break creating a revolutionary series that successfully combines serialized arcs with procedural drama.

…

Expand

Not really sure why this show has lasted 6 seasons. I thought 3 episodes of season 1 was more than enough. I do like the actor-ensemble but

Not really sure why this show has lasted 6 seasons. I thought 3 episodes of season 1 was more than enough. I do like the actor-ensemble but story is lackluster and surprised it gets such high reviews.
The Good Wife should be Good Riddens.

…

Expand