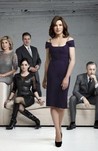 Creator:

Michelle King, Robert King (III)

Show Type:

In Season

Season 1 premiere date:

Sep 22, 2009

Episode Length:

60

Air Time:

09:00 PM
Alicia's cases are intriguing, and the background drama would be melodramatic if it weren't such a common story these days.

There are many enjoyable performances by many wonderful actors, including Baranski, Panjabi and, the nicest surprise of all, David Paymer, who plays a judge. But you've seen much of this before.

A smartly conceived and well executed legal drama with a strong star (Julianna Margulies) at its core and, even better, a terrifically timely hook.

The Good Wife is confident and polished, and a much better showcase for Margulies than her last legal drama.

It may not be entirely fair to call a show as complexly layered as The Good Wife a crime drama, though at some basic level it is, with a bleakly luminous Juliana Margulies playing a novice criminal defense attorney who's painfully learning the sport of judicial hardball.

If The Good Wife can maintain the first episode's tone, it will keep an audience even after political sex scandals fade from the news.

With the drama so thin, it must be the richness of Alicia's situation that makes 13 million people a week want to enjoy her company.
Juliana Margolies is brilliant. She really knows the subtleties of acting. No chewing up the scenery for her, rather understated, nuanced

acting. Bravo!!

…

Expand

The best law show ever and one of the best shows on TV. Dynamic and likeable characters. Realistic events. Great acting. Good directing.

Slight hidden humour. Need I go on?

…

Expand

Excellent series, combining courtroom drama, crime stories, politics & social commentaries that are very relevant to today's era, plus romance

subplots that are done in mature way. Great cast, and classy storytelling, never trashy. I didn't expect it to be so good in the first place, but ended up being entirely hooked.

…

Expand

Excellent writing and acting. Great character development. I typically tend to hate procedural show,s but the characters are so compelling,

and depicted so realistically that it is addicting. And to think, I would have never watched this series had I not been sick...I guess in this case my stomach flu was a blessing? I guess we'll find out in the future seasons.....

…

Expand

Off to a good start. This show has the potential to go beyond its ripped from the headlines premise to become a really satisfying show.

Julianna Margulies is perfect in the role.

…

Expand

The legal plots are all "Been there, seen that" and therefore are rather boring. It's a shame that interesting characters are not given

much interesting material. Scenes here and there are outstanding, but if this series is just going to be "case of the week" on a regular basis, what a terrible shame.

…

Expand