Network:

Hulu

Series Premiere Date:

Season #:

1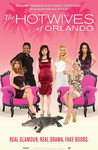 Summary:

The parody series based on Bravo's "Real Housewives" franchise follows the lives of trophy wife Tawny St. John (Casey Wilson), Bible thumpber Crystal Simmons (Angela Kinsey), her former child-star sister Amanda Simmons (Kristen Schaal), British housewife Veronica Von Vandervon (Andrea

Savage), entrepreneur Phenomenon "Phe Phe" Reed (Tymberlee Hill), and New Jersey native Shauna Maducci (Danielle Schneider).

…

Expand

Genre(s):

Comedy
Show Type:

Hasn't Aired

Season 1 premiere date:

Jul 15, 2014

Air Time:

12:00 AM
The result is a show that isn't always "ha ha" funny, but is scathingly brilliant.

Hotwives is knowing and funny, and a great showcase for many talented comedians who both star in it and appear as guests.

This show is a bit too easy, given that its source material has become a parody of itself. For those who have grown sick of the Bravo formula squabbling, these antics may be a tonic.

Writers Dannah Phirman and Danielle Schneider clearly know the source material they're mocking and do a great job of getting laughs out of the absurdities of the "Real Housewives" shows. But sometimes the humor is dulled by the realization that while mockery can be fun, Hotwives still requires viewers to sit through "Real Housewives"-style inanity.

The issue here, in as much as there's an issue here, isn't that the jokes aren't funny--it's that they're kinda lazy, especially coming from a group this capable.... The series is amusing enough to qualify as a good summer diversion--if not exactly must-see TV.

The half-hour episodes feel a bit like a "Saturday Night Live" sketch stretched to its limits--fun for a while, then a trifle repetitive.

The plotlines here--a fund-raiser for a charity that provides high-heel shoes for dogs occupies the first episode--are kind of amusing, but in general the show looks as if it were far more fun to make than it is to watch.
Brilliant show. The writing's great and the cast has an outstanding comedic timing. My favorites are Phe Phe, Shauna, Tawni, Billy and Ally.

Lookin fwd to Season 2. :)

…

Expand